Best Farmers Market-Inspired Side Dishes
A four-day workweek means we are already headed to the weekend and once again, many of us will be enjoying the great outdoors (still need to get your outdoor space ready?  Click here!).  Stumped for what to bring to the next cookout or BBQ?  We have some great side dishes that are not only easy to make, but most of the ingredients can be found at your local farmers market—good for you, good for the planet and the perfect way to enjoy these early summer evenings with friends and family.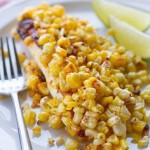 Cumin Roasted Corn via Organic It's Worth It
Ingredients:
16-oz. package frozen organic corn (or four fresh ears of corn, kernels removed)
3 tablespoons extra virgin olive oil
1 tablespoon ground cumin
Pinch salt and pepper
Directions:
Heat oven to 400 degrees.
Spread corn on a large rimmed baking sheet. Sprinkle with cumin, olive oil, salt and pepper.
Roast for 15 minutes (or longer if you want a bit crispy)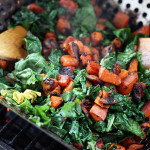 Grilled Sweet Potato and Wilted Kale Salad via Tasty Yummies
Ingredients:
2-3 organic sweet potatoes, cut into 1-inch cubes
2 cloves garlic, minced
3 tablespoons olive oil
Salt and pepper, to taste
1 large bunch kale, 4 or 5 cups, washed, stems removed and roughly torn or chopped
1 -2 tablespoons champagne vinegar (or rice wine vinegar)
Red pepper flakes
1 tablespoon fresh chives, minced
Salt and pepper, to taste
Directions:
Preheat your grill.
Place your grill basket or grill bowl onto the grill, and add the sweet potatoes. Tossing every 3-5 minutes allow the sweet potatoes to get tender and browned. But don't toss them around too much, you don't want to mash them up as they get more tender. Depending on the heat of your grill, it will take approximately 15-20 minutes. Be careful not to burn the potatoes, move the grill basket off of any large flames, if need be.
After the potatoes are tender and nicely browned, add the kale to the basket and continuously toss around to keep it from sticking. Cook for approximately 3-5 minutes until the kale is wilted. Remove the sweet potatoes and kale to a large serving bowl and toss with the vinegar, red pepper flakes and fresh chives. Salt and pepper, to taste. You can add more olive oil if you 'd like, as well as some more minced garlic. Serve immediately while warm, or it would also be good room temperature or chilled.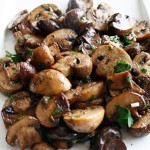 Roasted Mushroom Medley via Italian Food Forever
Ingredients:
2 Pounds Mixed Fresh Mushrooms
2 Garlic Cloves, Chopped
1/2 Cup Olive Oil
Salt & Pepper
1 Teaspoon Chopped Fresh Rosemary
1 Teaspoon Chopped Fresh Sage
1/4 Cup Chopped Fresh Parsley
1 Teaspoon Balsamic Vinegar
Directions:
Preheat the oven to 350 degrees F.
Wipe the mushrooms with a clean, damp cloth and trim stems.
Slice the mushrooms into pieces no larger than 2 inches in size.
Mix the olive oil with the garlic, herbs and seasonings in an ovenproof casserole dish large enough to fit all of the mushrooms.
Add the mushrooms, and mix well, coating the mushrooms with the flavored oil.
Bake for about 30 to 40 minutes, or until cooked through.
Remove from the heat, and drizzle with the balsamic vinegar.
Lemon Roasted Brussel Sprouts via Chocolate and Carrots
Ingredients:
2 – 3 cups whole, fresh brussel sprouts
1 tablespoon fresh squeezed lemon juice
1 tablespoon olive oil
Fresh ground black pepper and salt, to taste
2 tablespoons pine nuts
Directions:
Preheat the oven to 400°F.
Cut the brussel sprouts in half, longwise, and place in a bowl.
Add the remaining ingredients, except the pine nuts, to the bowl.
Stir the bowl and pour onto a baking sheet that has been covered with a silpat mat or non-stick foil.
Sprinkle the pine nuts around the baking sheet.
Bake for about 15 minutes, or when they start to look golden and delicious!
Talk to us:  What is your favorite side dish to bring to a BBQ?