Get Your Outdoor Space Ready for Summer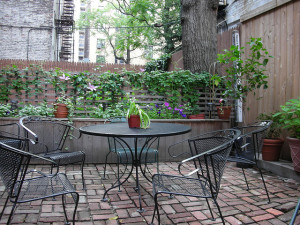 This weekend marks the unofficial beginning of the summer barbecue season and is the time when we celebrate everything great about eating and entertaining outdoors.  Is your outdoor space ready?  Whether you have a magnificent backyard patio or a small urban deck, getting your outdoor space party-ready is the best way to say an official good-bye to winter and hello to summer fun.
Hit the Deck (or Patio)
Clear your deck or patio of weeds and winter debris and repair any broken fixtures before you even get your outdoor furniture out of storage.  You can use common household products such as vinegar and baking soda to wash down your deck or patio and pressure wash siding and steps for a quick clean.
Extra Eco Tip:  Keep the baking soda close by throughout the summer season– it is a great way to get rid of stains from suntan lotion and grill grease.
Check Your Seating
Make sure you have enough chairs and seating areas to accommodate your guests.  You can upgrade furniture you already have by removing rust stains (apply lemon juice and rinse after 20 minutes) and adding colorful pillows for comfort. Rearrange seating to create small conversational areas as well as allow for easy flow for party guests.
Extra Eco-Tip:  Repaint old folding chairs (with zero VOCs paint) in bright colors that go with your patio scheme.  Keep them folded in a closet until you need them—instant seating that will go with your other furniture!
Decorate with Plants
Potted plants and container gardens not only add color to your patio or deck, but they can hide ugly corners and define space.  Purchase pots that are similar in color or style–this will allow you to have a variety of different plants without the space looking unorganized.  While you can mix and match different plant types, you should combine plants that share similar water and light requirements which will make it easy for you to keep your plants looking lovely all season long.
Extra Eco-Tip:  Add containers of vegetables and herbs to your patio décor—allowing you to grow and use your own food for summer entertaining.
Add Some Light
Replace old light fixtures with more eco-friendly options such LED lights from LED Waves.  Not only do these options use less energy, but they provide a brighter glow—making them a great addition to your outdoor space.  If you do not want to (or are unable to) install lighting, use lanterns or mason jars filled with solar-powered lights or all-natural candles to light up tabletops and pathways.  Best part of these lighting elements?  They are moveable.
Extra Eco-Tip:  When purchasing all-natural candles, look for those that include essential oils known for repelling insects such as citronella or pine.
Get Grill Ready
Before you even think about flipping that first burger, make sure your grill is clean and ready to go.  A simple, green way to clean your grill from Organic Gardening:
Grab a stiff wire brush, a spatula, tongs, an old t-shirt or cloth and vegetable oil.
Preheat the grill for 15 minutes and turn the grill off.
While the grill is still warm, scrape the grill with the wire brush.
Grab the cloth with the tongs and dampen it with the vegetable oil.
Use the tongs to rub the oily cloth over the grill gate.
In addition to cleaning the grill, the vegetable oil will help prevent food from sticking, preventing additional build up throughout the grilling season.
Extra Eco-Tip:  Purchase reusable plastic utensils, cups and plates as well as serving trays and bowls.  This will alleviate worries about things breaking on your patio and will keep you from filling up the trash with Styrofoam or paper products after each party.

Don't forget to stock up on all-natural cleaners such as our Ecospirit ™ All Purpose Cleaner and our Ecospirit™ Window & Glass Cleaner.  Keeping products like this on hand make it easy quick eco-friendly touch-ups just before company arrives.

Talk to us:  What food or cocktail will you be serving at your first outdoor party of the summer season?

image courtesy of NotLiz/CC BY 2.0