Top 5 Best Halloween DIY ideas from Pinterest
If you're anything like us, you love Pinterest for its delicious recipes, fabulous décor ideas and intriguing DIY projects. This month we decided to scour the addictive site for eco friendly Halloween DIY ideas to bring you the best of the best when it comes to fun and spooky projects. Of course, we can't promise there won't be some clean-up involved, but that's where we come in. Schedule eco friendly cleaning services to go with your eco friendly Halloween, and leave the truly scary part to us!
In order of easiest to hardest, here are our favorite Halloween DIY projects from Pinterest.
Spooky fog
Visit a thrift store or your storage closet to find a suitably scary looking container to hold your fog. It should be large enough to hold large chunks of dry ice and allow you to insert your hands and arms comfortably with room to move.
Buy dry ice at a liquor, grocery or party store. Using gloves or tongs place chunks of dry ice in the container. When you're ready for the fog to start, pour hot water over the ice and enjoy.
Thanks for the tip Hula Heather!
Halloween Wine Bottles
What's cake without wine? This project is so fun and simple, you'll enjoy making this Halloween decoration as a girls night out activity or even as a fun and romantic craft with your significant other. All you need are empty wine bottles – you'll have fun taking them from full to empty – some vegetable-based paint in colors of your choice, spooky dark candlesticks with a base wide enough to hold the wine bottle, and your imagination!
After the bottles are empty use your imagination to paint them with spooky Halloween-inspired designs, faces and markings. Allow them to dry completely and display them on the candlesticks.
Thanks for the hours of fun Lisa Wilson!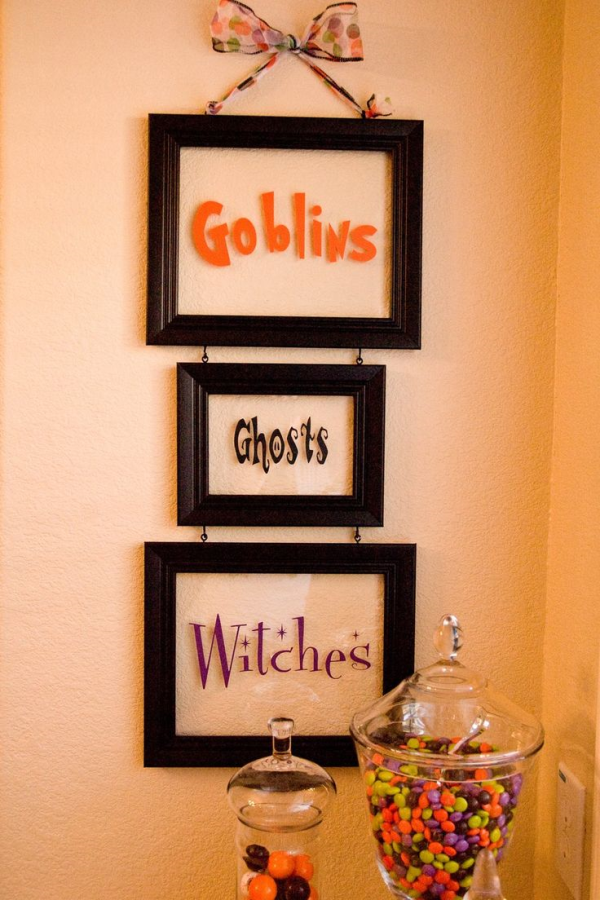 Indoor Halloween Signs
The photos of this project looked so great, it's hard to believe this craft involves inexpensive frames with backs removed and either vinyl adhesive letters or vegetable-based paint, depending on what you'd like to do with it. This project would be fun for a rainy afternoon, or a great way to keep the kids busy for a few hours at the table.
Thanks for the inspiration Nikki Hardy!
Cake Ball Brains with Oozing Cherry Blood
The best DIY projects involve baking, in our opinion, and this project is delicious, fun and guaranteed to impress party guests from the littlest to the biggest.
This easy-to-follow recipe also includes a link to purchase the one must-have accessory you need to complete this project. Since you'll need it before you can get started, give yourself a few extra days to have everything on hand before you get started.
Thanks for the recipe Esther Freedman!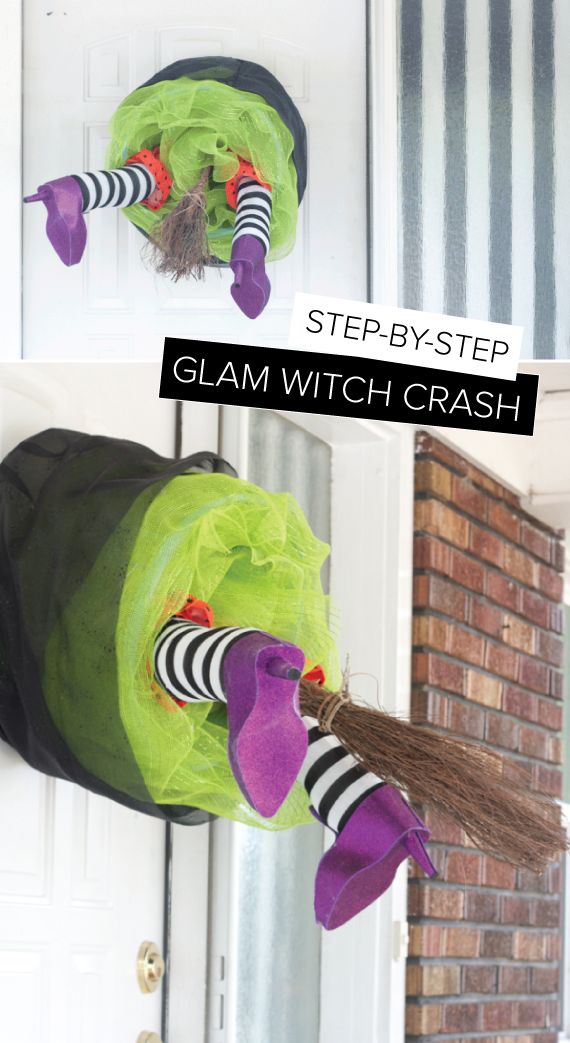 Witch Crash
This fantastic project takes some time and effort to complete, but the end result is worth it. The total effect makes it appear that a witch on a broom has crashed into your door or wall – where ever you decide to construct this. It's a fun decoration that will delight your family and friends. We especially recommend giving this a try if you're planning on a Halloween party or expect to see lots of trick-or-treaters this year. Keep this eco-friendly and cost effective by upcycling items you have in the house or visit a thrift store for pieces you might need.
This step by step tutorial makes this project easy to make and features great photos so you track your progress every step of the way.