Quick & Easy Holiday Cleaning Checklist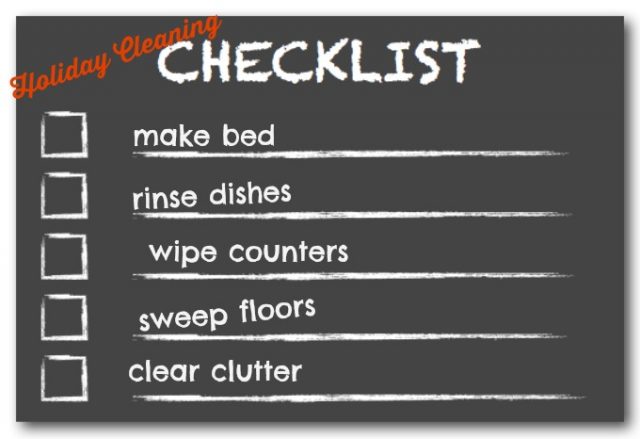 This is not the week to do a deep clean (unless you've already scheduled one with us!), but if you're looking to keep your home as merry and bright as the holidays, here is our quick & easy checklist for getting the essential household tasks done while you celebrate with family and friends over the next couple of weeks.
Every Morning
Make Your Bed
Even if you just quickly pull the comforter over the sheets, do not leave your house without making your bed. Nothing will make you feel better after a long day of shopping and entertaining than falling into a nicely made bed.
Empty the Sink
Never leave dirty dishes in the sink. Wash your breakfast dishes or rinse them and put them in the dishwasher. Continue this trend throughout the day, always rinsing dirty dishes as soon as you are done eating.
Wipe It Down
As soon as everyone has had breakfast and is starting their day, do a quick wipe down of kitchen and bathroom counters, sinks, and appliances.  Also, swish toilets with a toilet brush. When guests surprise you in the middle of the afternoon, your home will be prepared.
Every Evening
Clean the Floors
Do a quick sweep of your kitchen and family room areas–a small handheld vacuum is a wonderful tool to make the crumbs disappear.
Clear Clutter
Take a basket through each room and fill it with all the items that need to be put away. Once the basket is filled, put the items where they really belong.
Prepare for Tomorrow
Although you may be forgoing backpacks and briefcases during this holiday break, make sure you are ready for the next day by getting items ready such as finding keys, gathering mittens and hats, etc. Also use this time to hang up clothes, coats and towels that may have been used during the day.
Talk to us:  What cleaning tasks do you keep doing even during the busy holiday season?
image courtesy of flickr CC/Mufidah Kassalias