How to Have a Successful (and Profitable) Yard Sale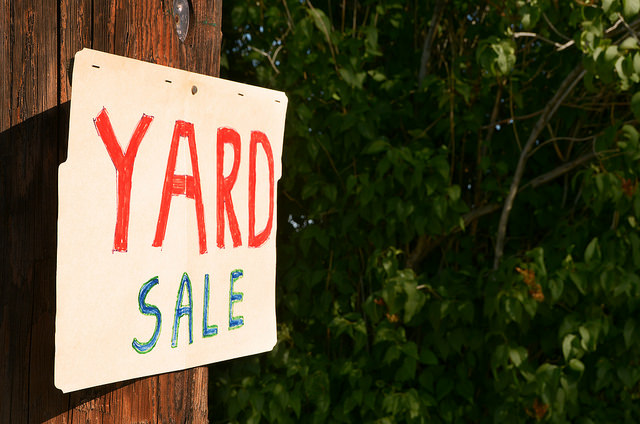 Yard sales, moving sales, estates sales…whatever you call it, we love it.  These do-it-yourself sales allow you to get yourself organized and get rid of things you really don't need—it's one of the best examples of recycle, reuse and reduce that I know.
But, yard sales are hard work and sometimes the effort you put into it doesn't seem like it's worth the amount of money you make. Here are our 5 secrets to getting the most out of your yard sale experience.
Find a Partner
When it comes to yard sales, don't go it alone. When you partner with neighbors, friends and family members you not only have more help, but you have more things to offer prospective buyers. Experts believe the more "full" a sale seems the more traffic you will receive. Worried that you won't be able to keep track of everyone's stuff? Give each group its own color-coded price tag—when the sale is over there will be no mistake how the money should be divided and who is responsible for items that didn't sell.
Advertising Matters
In addition to advertising in your local paper, checkout some of the free online sites such as Craigslist, Yard Sale Search or Garage Sale Hunter and don't forget to add signage in your yard and around your neighborhood. Use your advertising space wisely—choose phrases such as "Estate Sale" to really capture people's attention and, if possible, include a few of your best items in your advertising such as "Baby Clothes", "Sports Equipment" or "Kitchen Table."
Price Right
The strategy of throwing multiple items into one box with one price sign sounds like an easy solution, but it won't necessarily give you the best results. Take the time to create price tags for each item—I really like this eco-friendly option from Etsy or make your own by cutting out shapes from paper scraps. This makes the pricing easy to find and gives the illusion that they are shopping at a store. A pricing tip from the pros: don't price under the assumption everyone wants to haggle. If your pricing is too high, many people will just walk away.
Presentation Matters
Think like a store designer by not only grouping like items together (kitchen items in one area, toys in another, etc.), but also focusing on how each item is displayed. Set dishes on a table, hang up clothing by size and gender (use a shower rod or string wire between trees) and stack books on a shelf. Make sure there is enough walking space between your sections and put big-ticket items (nice furniture, golf clubs) by the curb so people will want to stop. Once you have everything set, take a step out into your street and see how everything looks.
Make It an Experience
In addition to finding a good deal, yard sale hoppers are also looking for a good time. Put out a table with coffee and pastries for the early morning, play your favorite Pandora station in the background and create an area where small children can be entertained with crayons, puzzles and games. The idea is to make people feel comfortable—allowing them to linger over your items instead of rushing to get to the next sale.
Once your sale is over, continue the green theme and donate leftover items to a local non-profit organization.
Talk to us: What is your best tip for yard sale success?
image courtesy of flickr CC/
r. nial bradshaw