Homemade Organic Dog Treats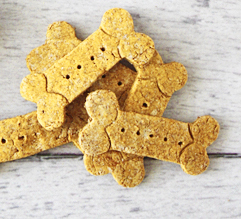 Here's a holiday you may have forgotten to celebrate February:  International Dog Biscuit Appreciation Day (Feb 23).  What a great time for us to spread our environmentally-friendly lifestyles down to our pets.   Opt for organic, homemade pet treats to avoid exposing your canine pal to fillers, additives, pesticides, by-products and chemical fertilizers.
Top tips for the healthiest treats:
Does your dog have intolerances or allergies to certain foods? Study recipes before trying them to ensure they're safe.
Choose organic ingredients whenever possible.
Steer clear or foods that dogs shouldn't eat. Brush up on the most up-to-date list from the ASPCA.
Need a quick treat with no prep? Try frozen green beans, hard-boiled eggs or apple pieces, with seeds and core removed.
A couple of great recipe options from canine cuisine chefs on the web:
Pumpkin Peanut Butter Dog Treats (recipe credit: www.livelaughrowe.com)
(Makes 5-6 dozen)
2 cups white rice flour
1 cup wheat germ
7.5 oz. can pumpkin
½ cup water
½ T. cinnamon
1 T. vegetable oil
1 T. honey
1 T. peanut butter
Place all ingredients in a large bowl. Mix thoroughly to combine.
Roll out dough on floured surface to about ¼-inch thick. Using a cookie cutter, cut into bone shapes. Combine dough scraps and continue to roll out and cut into shapes until all the dough has been used.
Place cookies on ungreased, foil-lined baking sheet and bake in a preheated 325° oven for 30-35 minutes.
Grain-Free Dog Treats (recipe credit: www.primallyinspired.com)
(Makes 50 two-inch treats)
½ cup chicken or beef broth
½ cup fat or oil of choice (bacon fat, coconut oil, olive oil, etc.)
1⅓ cup tapioca flour
⅓ cup coconut flour
½ t. sea salt
2 T. brewer's or nutritional yeast
2 T. flaxseed meal
Preheat oven to 400° F.
In a small pot over medium heat, bring the chicken broth and fat/oil to a boil.
While that is coming to a boil, mix tapioca flour, coconut flour, sea salt, brewer's yeast and flax meal in a medium bowl.
Once the broth/fat mixture comes to a boil, remove from heat and add to the flour bowl. Mix well.
On a piece of parchment paper, press out the dough into a ¼" thick rectangle. Either cut into squares with a pizza cutter or use cookie cutters in desired shape.
Bake for 15 minutes on a parchment lined cookie sheet. When the timer goes off, shut off the oven, crack the door and leave in the oven until cool (about 10-15 more minutes).
Talk to us: What's your dog's favorite homemade or ready-to-eat treat? Let us know in the comments below!