Have a Greener Hanukkah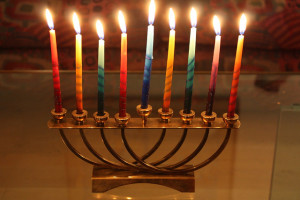 Hanukkah, which begins the evening of December 16th, is a time when families come together to reflect upon their Jewish heritage and culture.  While Hanukkah is steeped in tradition—from the gifts to the food—it may be easier than you think to make this holiday more sustainable and eco-friendly.  We have taken three key areas of this eight-night celebration—the Menorah, the gifts and the food—and have given you some tips for making it a little more green.
The Menorah
For this year's Festival of Lights, use beeswax candles that are paraffin and toxin free and shine up your Menorah by using a DIY natural cleaning solution made from a mixture of water, baking soda, salt and white vinegar.   If you don't have a Menorah that has been handed down from generation to generation, consider some eco-friendly options from Sustainable Baby Steps before buying a new one.
Look into buying an antique or secondhand Menorah.
Borrow one from family members or friends.
Make your own upcycled version—Etsy.com has some great ideas.
The Gifts
Second-hand or vintage presents are a great eco-friendly option, but you can also find some greener gift-giving ideas by looking for products made from organic and sustainable materials.  There is a great list on Inhabitots that includes unique gifts for your celebration such as upcycled dreidels, Hanukkah-shaped recycled crayons and fair trade chocolate gelt.  An even better way to celebrate your eight nights?  Commit your family to doing eight nights of service—donating your time and/or money to organizations that are making a difference in your community.

The Food
The Hanukkah dinner is one of the most exciting parts of this holiday celebration and many find it difficult to make the traditional recipes more eco-friendly.  With potatoes and root vegetables often in abundance during the winter, check with your local farmers markets and buy local ingredients whenever possible, use organic oils to fry your latkes and sufganiyot (or bake them!) and consider modifying some of your traditional recipes to be more vegan—such as using soy- or almond-based cheese in your blintzes.

Talk to us:  How will you be making Hanukkah more green this year?

image courtesy of flickr/BY CC 2.0