Happy Eco-Easter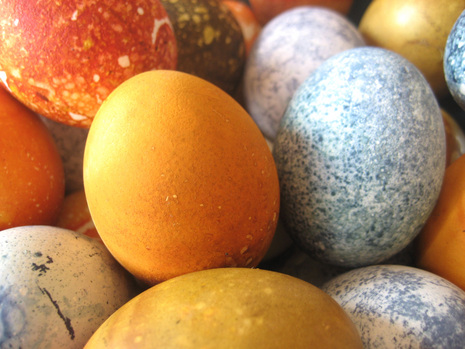 This weekend is Easter and we are not only celebrating the Easter Bunny, but also celebrating Mother Nature.  There are numerous eco-friendly ideas you can incorporate into your own Easter celebrations—from natural egg dyeing to hosting a sustainable brunch,  making this weekend's fun good for you and your family as well as good for the planet.
Reuse and Recycle
While it is tempting to buy a new basket each year, reuse what you already have or consider using basket alternatives you can find throughout your home such as cloth-covered storage bins, sand pails, or small tote bags.  Be sure to recycle your candy containers and other packaging and look for ways to reuse packaging such as these great egg carton craft ideas found from Spoonful website.
Let Green Fill the Baskets
Do not use the plastic Easter grass found in stores.  Instead, reuse shredded paper cuttings or fill the bottom of your baskets with colorful pieces of cloth scraps or a product your kids will actually use like socks.  Look for more earth-friendly candy options such as organic chocolates and jelly beans and even think green with your gifts and toys—a startup garden kit with seeds, nontoxic art supplies or certified free-trade or homemade toys will make any child smile.
Eco Egg Decorating
Ditch the prepackaged egg dye kit for a more natural alternative such as creating your own homemade natural dye made from the spices you find in your pantry or the vegetables from your garden (think beautiful purple cabbage or yellow onion).  If you must go with a prepackaged option, look for one that uses natural ingredients such as Natural Earth Paint.  Visit the EcoWatch site for more great eco egg ideas.
Dine In
Instead of heading out for brunch, host your own Easter meal at home this year.  Decorate with natural elements such as flowers and greenery and use cloth napkins and washable plates, cups and utensils.  Only serve local, organic and sustainable foods and reuse leftovers instead of throwing them out (leftover eggs make a great egg salad!). Yahoo! Voices has other ideas for throwing a green dinner party.
Do a Quick Company Green Clean
Your home will soon be filled with Easter guests young and old and while you are busy preparing for all the festivities, don't miss one great green opportunity:  cleaning.  A clean home not only makes your guests feel more comfortable, but creates a healthier environment for everyone.  Use nontoxic, natural cleaning products such as our Ecospirit™ line or, if you are really pressed for time and live in the NYC area, you can book our Wild Green Pre & Post Party Cleanup, allowing you to enjoy the fun while we take care of keeping it all clean.
Talk to us:  What are you doing to make your Easter more eco-friendly?