Green Tree Textiles: Featured Green Small Business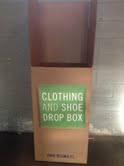 As a green cleaning business we're big supporters of other green businesses who are making a difference. Every month we'll feature a green business in our neighborhood and around the greater New York area. This month, we're thrilled to turn our spotlight on Green Tree Textiles, a recycling service that supports the disadvantaged and homeless members of our community, as well as the environment. As they say: they are a recycling company for people not for profit. We think that's pretty amazing. 
A recent addition to the green business movement – they were founded in January 2012 – Green Tree collects unwanted textile materials including clothing, shoes, accessories and household linens that would otherwise go to already overburdened landfills. The difference between Green Tree and other charitable organizations is that they do not sell any of the items they collect for a profit.
"Any materials we receive that are usable or wearable are donated to our charity partners and distributed to those in need," says founder Serge Lazarev. "Additionally, we seek out partnerships with clothing manufactures and are developing relationships for a more sustainable use of textile scraps."
Fortunately, we are proud to announce that GEC is a new partner to this exciting group. We are pleased to be able to support their cause by maintaining a collection box in our office for our clients and visitors to donate unwanted textiles. As you bundle up for the approaching winter, remember that there are people right here in our community that need your help.
The organization's "GREEN BOXES" are located in a variety of residential and business locations throughout Manhattan, Bronx, Brooklyn and New Jersey. The boxes are custom made and use recycled wood.
To date they have collected over 30,000 pounds of clothing. This month please help us support the incredible work they're doing by dropping by our office and donating any textiles you no longer use. If you're a current client you can also let our cleaning technicians know that you'd like to donate items. It's the support of environmentally conscious and caring people like you that will make all the difference to someone in need this season. Thank you.
If you'd like to host a Green Box in your business, please call 908-245-9300 or visit greentreetextiles.org.
Can you recommend a small green business we should spotlight next month?