Top 3 Ideas for Fall Container Gardening
Ideas for Fall Container Gardens That We Are Loving
Don't let the cooler weather stop you from adding a splash of color to your entryway or patio.  The grasses, foliage and blooms of fall are the perfect accent to your November décor—inside and outside of your home.
Here are 3 ideas for container gardens that we are loving this season: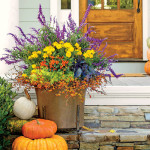 Experiment with Bright Colors
Who knew so many bright colors could live happily in one space?  Fall is the perfect time to experiment with blooms and berries that compliment each other—such as mixing blue with orange and yellow with purple.  Checkout this color wheel from Proven Winners to find interesting combinations.  Bonus:  Some plants (like sedum) can be planted in your yard after your container is done flourishing.  (via Southern Living)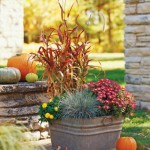 Add Some Height
Ornamental grasses have beautiful color in the fall and bring great height to your containers—perfect for filling up a spot in the corner of your porch or patio.  Grasses that vary in color and texture will add great interest to any container. Bonus:  You can dry your ornamental grass for numerous interior holiday projects such as wreaths and centerpieces.  Click here for instructions.  (via Midwest Living)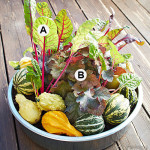 Use Gourds
Pumpkins and gourds come in all shapes, sizes and color making them the perfect addition to low containers such as this one.  Mix them with frost-tolerant plants such as Swiss chard (A) and coralbells (B).  Bonus:  You can easily turn your gourds and pumpkins into containers for your fall plants.  Click here for instructions.  (via Better Homes & Gardens)
Talk to us:  What are you planting in your fall containers this year?