Change Maker: iMoveGREEN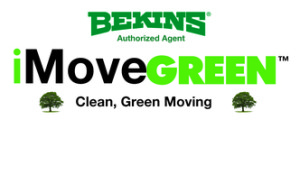 The Change
When Jeffrey Sitt decided to purchase the assets of a 30-year-old moving company in the Bronx, create a brand new company and call it iMoveGREEN, he knew it would not be an easy change to make. Mr. Sitt wanted to create a company unlike any other—a company that would be committed to being socially-conscious, would have a proactive approach to change and would ensure a smooth, efficient and affordable move for every customer.
The Story
Within 2 months of opening its doors iMoveGREEN was the only EPA Certified Green Power Partner Moving Company in the U.S. By spring of that year, they were having their trucks inspected for the ever-escalating bedbug epidemic and  soon began the 'Bedbug Protocol', including heat treatment for their trucks and equipment and spraying with organic bedbug killers. Their philosophy is to do right by their clients, their community and the world–the rest takes care of itself.
The Commitment
iMoveGREEN uses 100% renewable wind energy to power its offices and provides clients with environmentally-conscious packing materials such as reusable plastic containers and biodegradable packing peanuts. Additionally, iMoveGREEN only uses recycled water and green washing materials to clean its office space and moving vehicles and takes eco-friendly and proactive steps necessary to ensure their moving trucks, moving blankets, dollies and computer trolleys are bedbug free.
iMoveGREEN has a partnership with the Nature Conservancy where the team pledges a percentage of their proceeds to plant trees in the Brazilian rainforest for each person who moves with them.
Strategies You Should Steal
Know the Real Concerns of Your Customers
While bedbugs were not necessarily on the radar of many moving companies, they were a main concern for customers.  "Bedbugs have become a major concern for many Americans, so enforcing procedures to prevent them seemed like a logical next step in providing a unique moving experience," said Jeffrey E. Sitt, iMoveGREEN's owner, in an interview with the Wall Street Journal.  What are some of the daily challenges your customers face and how might your brand be able to alleviate the stress and concern?
Create Usable Blog Content
If you are just using your company blog space to share information about your products and services, you may be missing a really great opportunity to increase site traffic, improve SEO and become known as a true expert in your space.  Move your blog content beyond the details of your company and provide information that your customers can actually use. iMoveGREEN dedicates its blog space to providing moving tips, with a special focus on tips for those preparing to move outside of U.S.—iMoveGREEN specializes in household goods shipments, vehicles, special cargo, and non-hazardous commercial shipments as well as international office to office moves, employee relocation programs, and trade show management.
The Details
370 Concord Avenue
Bronx, NY 10454
212-688-888
www.imovegreen.com
Facebook, Twitter
Talk to us:  Do you have an earth-friendly, socially-conscious business you would like us to profile?  Send us a note via Twitter or Facebook!