5 Ways to Use Your Old Calendar
If you are like us, you are still getting used to a New Year—which means, you may be a little late in swapping out your 2015 calendar for the 2016 version.  Before you literally toss out the old year, try one of these very easy DIY projects and repurpose those dates and images into something you can enjoy for the entire year.
Already gotten rid of your 2015 calendar?  Bookmark this page to use for next year!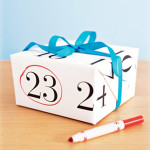 Gift Wrap
If your calendar is big enough (large desk calendars are best), use it to wrap your 2016 gifts.  It's a great way to personalize the present by wrapping it in the birthday girl's (or boy's) month and circling the actual date (this also works well for baby shower gifts—you can circle the expected due date!).   If your calendar isn't big enough for wrapping, cutout the numbers and the images and use to decorate gifts wrapped with plain craft paper.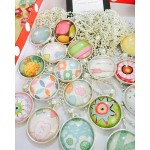 Magnets
Create cute picture magnets by looking for smaller images (or numbers!) that you simply "Mod Podge" onto clear accent gems.  Click here for the complete directions from PopSugar. Magnets made from calendar numbers are a great way to work with your children on math or cut out individual letters and turn your refrigerator into a daily spelling tablet.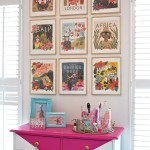 Wall Art
If your holiday shopping has left you a little short on cash, no need to let that stop you from decorating your empty wall space.  Calendars with nature scenes or art from famous painters or photographers are easily turned into beautiful wall art by simply framing the images.  If you're really feeling creative, make your own collage of images—perhaps let them represent the very best that 2015 had to offer.  Hint:  this year, look for calendars that have great wall art possibilities like these ideas from The Creativity Exchange.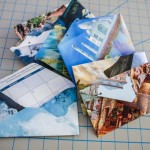 Envelopes
We love the look of stationary, but quite frankly, it's expensive.  Turn old calendars into unique envelopes and letterhead with these instructions from eHow.  There are numerous designs and plans for both large and small envelopes along with how to create note cards (perfect for school or business correspondence). Make it a 2016 goal to send a personal note to at least one person each and every week!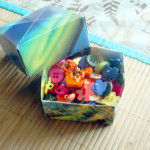 Origami Box
Okay, this project is for the more crafty (and patient) among us, but we couldn't resist adding these stylish and functional origami boxes to our list.  With only a pair of scissors and a ruler, you can turn your calendar pages into little boxes—perfect for organizing tiny office supplies (paperclips), hair products (barrettes) and even toys (Barbie shoes).

Talk to us:  What do you do with your old calendars?

image courtesy of flickr CC/Dafne Cholet