3 Delicious Hot Cocoa Recipes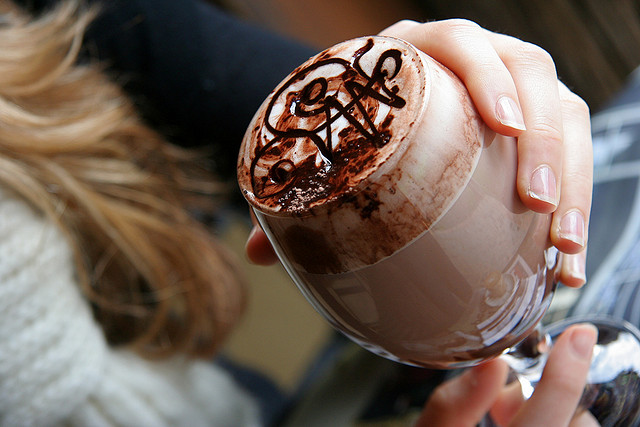 image courtesy of flickr CC/macinate
If the cold weather has you feeling a little less than warm inside, try one of these hot cocoa recipes.  From warming up after a day of walking in the city to taking your cocoa with you to a sledding hill (click here for best sledding hills in NYC), these recipes—along with fun mug ideas—will take the chill out of the air for you, your family and friends.
Be sure to stock up on great hot chocolate toppings such as marshmallows, whipped cream, chocolate shavings and peppermint sticks!
Creamy Hot Cocoa via allrecipes.com
Ingredients
1/3 cup unsweetened cocoa powder
¾ cup white sugar
1 pinch salt
1/3 boiling water
3 ½ cups milk
¾ teaspoon vanilla extract
½ cup half-and-half cream
Directions
Combine the cocoa, sugar and pinch of salt in a saucepan. Blend in the boiling water. Bring this mixture to an easy boil while you stir. Simmer and stir for about 2 minutes. Watch that it doesn't scorch.
Stir in 3 1/2 cups of milk and heat until very hot, but do not boil!
Remove from heat and add vanilla.
Divide between 4 mugs. Add the cream to the mugs of cocoa to cool it to drinking temperature.
Fun Mug Idea:  Ordinary white mugs take a more personal turn when you add a chalkboard label to one side.  You can write each person's name on the mug or use it to share fun, cold weather messages such as "Warm hands, warm hearts".  Click here for DIY instructions.
Cinnamon Hot Chocolate via housevegan.com
Ingredients
1 tablespoon cocoa powder
1 tablespoon sugar
¼ teaspoon cinnamon
½ teaspoon vanilla
2 tablespoons + ¾ cup nondairy milk (something a bit thicker like almond), measured separately
Directions
In your favorite mug combine the cocoa powder, sugar, cinnamon, vanilla and 2 tablespoons of milk. Mix thoroughly with a fork until you're left with a thick chocolatey syrup. Set aside.
Warm the 3/4 cup of milk over medium heat until it reaches your desired temperature.
Pour the warm milk into the chocolate syrup and give it a good stir.
Fun Mug Idea: Take your creamy hot chocolate on the go to the nearest sledding hill by putting it in the I Am NOT A Paper Cup.  Made of double-walled porcelain, this perfect rendition of a paper cup will keep drinks hot and paper cups out of the landfill.
Homemade White Hot Chocolate via gimmesomeoven.com
Ingredients
4 cups of milk of your choice (or you can substitute heavy cream or half-and-half, or do a mixture)
1 teaspoon vanilla extract
8 oz. white chocolate, chopped into small pieces (or white chocolate chips)
Directions
Stir together milk, vanilla and chopped white chocolate in a medium saucepan.
Cook over medium-low heat, stirring occasionally, until the white hot chocolate comes to a simmer.  (Do not let it come to a boil.)
Remove from heat and serve immediately, topped with whipped cream or marshmallows if desired.
Fun Mug Idea:  Turn an ordinary glass mug into an adorable snowman by using Sharpie markers to draw the face (via hoosierhomemade.com).  Kids will love watching the snowman face really pop once you pour in the white hot chocolate.
Talk to us:  What is your favorite hot beverage to drink on cold days?
image courtesy of flickr CC/macinate