The Green Connection to Small Business Saturday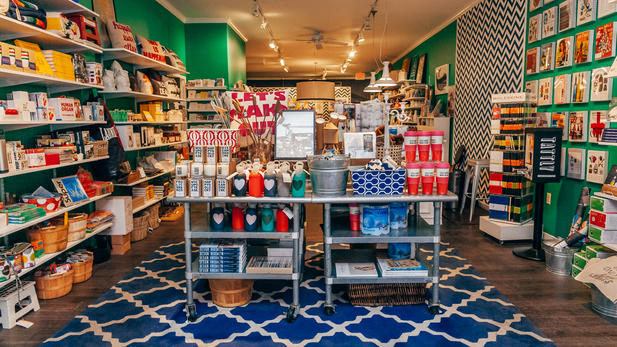 While Black Friday seems to still get a lot of post-Thanksgiving buzz, it is Small Business Saturday that really gets us excited.  Why?  In addition to GreenHouse Eco-Cleaning being a small business, supporting local businesses is a great way to invest in those places that make our neighborhoods unique, strengthen our local economies and save the planet.
Yes, save the planet.  How?
According to TreeHugger.com, where we shop and how we get there have serious implications.  "The best car-related innovation we have is not to improve the car, but eliminate the need to drive it everywhere we go," writes Alex Steffan.  Creating more "walkable" cities is one of the "single most potent weapon we have against climate change, rising energy costs and environmental degradation," suggests Peter Calthrope.
So, this year we encourage you to celebrate Small Business Saturday by visiting some of our favorite little spots in Brooklyn:
Acorn—A Brooklyn Toy Shop
Acorn is committed to offering heirloom quality products that are crafted using environmentally sustainable practices and materials made by artisans who receive a living wage for their work.  In addition, they donate a percentage of sales to both national and international schools and organizations that provide services for children.
Annie's Blue Ribbon General Store
Annie's Blue Ribbon General Store is filled with really unique items—many with great local appeal (we love the "Brooklyn I Love You" tote).  In addition, they often offer suggestions for how to best utilize what you have purchased—from recipes to trip ideas.  "In this way, our customers are not just buying a product but are buying an adventure as well," writes the site.
Bed-Vyne Wine
When you walk into Bed-Vyne, you will immediately be attracted to the rustic appearance of the reclaimed wood under your feet.  This wine (and brew) store is a reflection of its eclectic neighborhood—supporting local artists, musicians and chefs in addition to wine and beer.
By Brooklyn
The only store that exclusively sells products made in Brooklyn, you can find everything from tasty treats to comfy apparel.  In addition to being a great place to pick up a local gift, By Brooklyn has become a great community space for local artists to showcase their work—and they offer their space as a private event venue.
Holstee
Holstee creates art "that inspires reflection and words that encourage action" with words from their "manifesto" imprinted on a variety of items that resonate with entrepreneurs and start ups.  Not surprising to discover Holstee also offers up their space to freelancers and entrepreneurs with rentable desk space and workshops.
Talk to us:  What is your favorite small business in Brooklyn or NYC?