Thanksgiving Kids' Table Ideas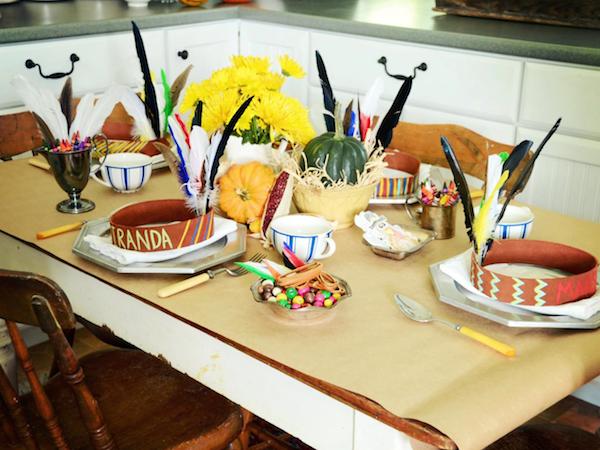 Keeping your littlest Thanksgiving guests entertained during the big holiday meal is not always an easy task.  And, as soon as they find out they have been relegated to the "kids' table", you may have a turkey-sized revolt on your hands.  This year, make the kids' table so fun and exciting that even your adult guests will be wishing they were a bit younger.
Make It Kid-Sized
The very best way to create the perfect Thanksgiving kids' table is to make everything comfortable for your kid-sized guests.  If possible, select tables and chairs that allow kids to reach the tabletop and use smaller plates and utensils so they can feed themselves (opt for shatter-proof dishes!).  Another great kid-sized touch?  Have each little guest make a "hand turkey" and write their name on the front along with something they are thankful for on the back.
Roll out the Kraft Paper
Kraft paper is a great alternative for a table cloth at the kids' table this Thanksgiving.  Many office supply stores offer a recycled Kraft paper option or consider contacting your local newspaper—many give away their "end rolls" for free.  You can either spread out the paper over the entire table or trim the paper to 11 x 17 and make individual placemats using this cute Turkey Place Mat template from MarthaStewart.com.  Add some crayons and you have a great way to keep little ones occupied during your holiday meal.
Create a Fun Centerpiece
We love this idea from Pottery Barn Kids:  Turkey Table Toppers. Cut and decorate construction paper feathers and glue a skewer to the back of each one.  You can either insert skewers into the top of a loaf of bread or put them in a glass mason jar—either way, they will look like the bright feathers of a turkey's tail.
Keep Kids Busy
Kids of all ages (we're talking to you, adults) love to do crafts while waiting for dinner to arrive.  Refrain from putting out the glue sticks and glitter (you'll thank us later) and opt instead for colorful beads and string for bracelets (check out this cool corn kernel jewelry and garland idea).  Since the crayons are already out for the Kraft paper fun, download templates for Thanksgiving Finger Puppets and have kids decorate them on their own.
Give Them a Treat
Hungry children and a room full of adults do not always mix.  Make sure stomachs stay full even if dinner is running a little late by creating these adorable Turkey Treat Cups.  You can fill them with popcorn, small carrots, apple slices or other fun and healthy treats.  Bonus:  Have kids write their names on the bottom of their Turkey Treat Cups and fill them up later in the day when hunger may strike again.
Talk to us:  What is one way you keep kids entertained during your Thanksgiving gathering?
 image via HGTV.com