How to Use Winter White in Your Home
As January ushers in colder temps and those little flakes of white on the outside of your home, it also ushers in a little white on the inside:  winter white.  It is a trend that the fashion industry has embraced for many years, but now we are seeing more and more interior designers begin to add white to their winter color schemes as well.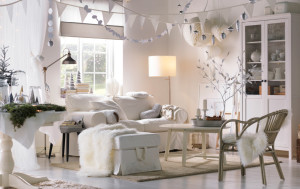 You don't have to go the full white winter route like this picture from Ikea to enjoy the clean design of this interior trend.
Here are three ways to use winter white in more practical (and less expensive) ways this season: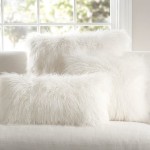 White Pillows
One of the easiest ways to change your home for a season is to buy new pillows for your couch and beds.  Look for varying shades of white to add texture to the space and consider throwing in a pop of color such as a deep gray or blue.  For the winter months, we also recommend looking for more cozy materials such as velvet or faux fur.  If you are tight on storage space, consider purchasing pillow covers instead—we love these from Pottery Barn.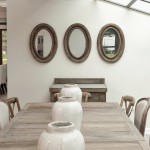 White Pottery
As you visit flea markets and antique stores, keep your eyes open for white pottery.  From bowls to vases to interesting figurines, white pottery is the perfect addition to shelves in almost any room of your home.  Gathering several pieces in one color will have a dramatic effect in a dark or light space.  You can also add these pieces to your dining room table like this photo from houzz.com. Filled or not filled with winter flowers, the look is clean and classic.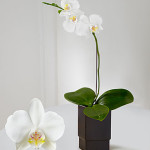 White Flowers
While you might not associate colder weather with beautiful blossoms, a white phalaenopsis orchid is a natural—and mobile—decorative touch.  Orchids are a very hearty indoor plant and because they are usually planted in pots filled with chips of bark, stones or treefern (no soil), you usually can get away with watering only once a week.  This one from FTD.com comes in a sleek black vase—the perfect compliment to its winter white petals.
Talk to us:  How will you be using winter white in your home this year?