Green Uses for Dead Autumn Leaves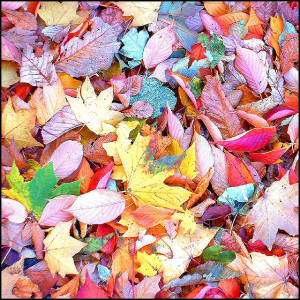 If you live in a home with even a couple of deciduous trees on the property, you know fall means one thing: raking, raking and more raking! The more trees you have, the more dead leaves you're left to deal with. Instead of bagging yours in lawn bags and waiting for the sanitation department to drag them away, consider some of these great uses for your normally discarded leaves.
Compost. Dead leaves are a great addition to your composter, when left to break down over time they develop into rich humus and eventually turn into compost. Use the resulting nutrient-dense compound to fertilize your containers, trees and flowerbeds. There's no better example of the environment providing exactly what the environment needs—it's full-circle environmentalism at its best! Be sure to use dry leaves or mix in some sawdust or straw to absorb moisture and avoid rot. Speed up the process by shredding leaves with a lawnmower before composting.
Free mulch. The plants and shrubs around your yard can use an extra layer of protection, especially when dealing with winters that include polar vortices! Fortify your plant life by surrounding it with a four to six inch layer around each plant base. Before spreading large leaves, shred with your mower or crunch by hand.
Mow and go. Instead of spending hours raking leaves and dealing with the piles, consider taking your mover to your leaf-covered lawn instead. You'll shred the leaves so they won't choke out your lawn over the winter, while enjoying the convenience of leaving the leaves in place. Just as they would in your composter, the leaves will turn to humus and fertilize your lawn or beds over time as they break down. This method also provides over-winter protection for lots of wildlife, such as snails and butterflies.
Home décor. While there are many ways to reuse leaves right in the yard they come from, leaves have aesthetic uses, too. Colorful leaves make beautiful fall rose bouquets. Take a large, colorful leaf, like a maple, and fold it in half from top to bottom. Then roll from left to right. Continue with additional leaves in the same fashion, wrapping them around the center leaf. Continue folding and wrapping until you have the desired size, then secure your fall rose by wrapping floral wire around the stems. Framed, pressed leaves also make beautiful wall décor. Press leaves between two sheets of wax paper and iron for 10 seconds. Allow to cool, then cut around leaf edges and frame.
Talk to us: Are your leaves piling up outside yet? If so, we'd love to hear how you plan to make the most of them this year! Share your creative uses in the comments below!
image courtesy of flickr/BY CC 2.0