Green Spotlight: East River Ferry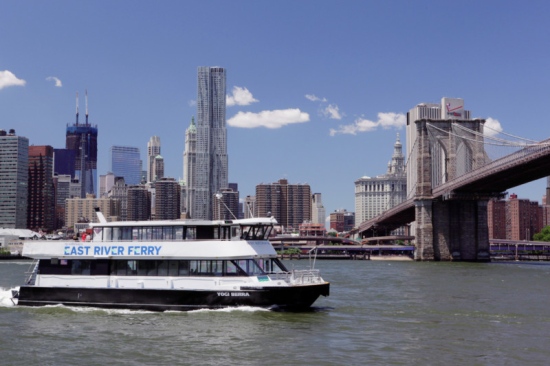 Some island dwellers might say that the most important thing to know on an island is how to get off of it. We couldn't agree more. We love our big apple island, but it's nice to know that NY Waterway's East River Ferry is standing by to take us on, off and around it when we want to explore our city and the outlying areas.
Jimmy Buffett was right – getting around by boat is the only way to travel. This eco friendly company offers frequent, reliable service that connects Manhattan with various destinations in Brooklyn, Queens and seasonally on Governor's Island. Their website features neighborhood introductions along with the accompanying ferry schedule. It's not just about transporting people and bikes from point A to point B with East River Ferry. They put on social events like booze cruises and contests for fans and customers as well.
The company partners with community businesses by featuring them on their neighborhood directories. A recent weekend found us checking out Hunters Point South, one of approximately ten neighborhoods that make up Long Island City in Queens. We had heard a lot about its burgeoning arts scene and we had to visit 5 Pointz, MoMA PS1, The Museum of the Moving Image and the Chocolate Factory Theater for ourselves. A short ferry ride from our location in DUMBO to the terminal in Long Island City and we were soon happily exploring a new neighborhood!
The double-decker boats depart every 20 to 30 minutes and they even offer free bus service during rush hour, taking passengers across 34th Street to Sixth Avenue, then over 38th Street to Lexington and back to the dock.  You'll spend a shockingly low $4 to ride the ferry, plus a dollar if you want to take your bike along (highly recommended). An all-day pass with unlimited access is just $12.
According to an article published in the Akron Beacon Journal, "The East River Ferry has become so popular that many New Yorkers are now sailing to work. In July, Mayor Michael Bloomberg welcomed the 1 millionth passenger on board, noting that in just one year, the ferry had surpassed its expected 400,000 riders. Noticing the crowded docks one tourist was heard to utter the immortal words from the movie Jaws: "You're going to need a bigger boat."
As an East River Ferry community partner in the DUMBO/Brooklyn neighborhood, we second that sentiment!
Can you recommend a small green business we should spotlight next month? Give us your nominations on Twitter, Facebook and Pinterest. See you there!