Change Maker: Farmbox Direct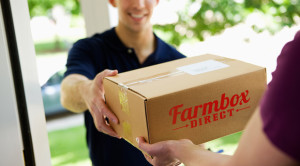 The Change: 
As a busy NYC working mom, Ashley Tyrner didn't always have time to make a weekly trip to her local farmers market to pick up the freshest local and organic items for her kitchen.  She wanted to create a service that would allow even the busiest of people to enjoy the benefits of local and organic food.
The Story:
Ashley started Farmbox Direct with a vision of how food SHOULD be: fresh, local (when Mother Nature permits), and free from pesticides! Having grown up in a family of farmers and living on a farm, she spent summers working at her uncle's compost in the Midwest, learning how to live off the land, and the benefits of local and organic food.
After she became a mom she really began to pay very close attention to exactly what was in the food that not only she was eating, but also what she was feeding her daughter.  She stepped down from the corporate world, and went back to her roots—creating a company that delivers healthy, organic, local & affordable food right to the door of people on the East Coast—from New Hampshire to Washington, D.C.
The Commitment:
Towards the goal of delivering fresh, local and organic food to its customers, Farmbox Direct only works with farms that use zero pesticides on the produce they grow, their artisanal items come directly from the artisan, and all eggs are cage free and free range.  Ashley personally hand picks every farm, artisan and vendor they deal with—if it's not USDA Certified Organic, they do not carry it.
In addition, every Farmbox delivery box is eco-friendly with biodegradable insulation.   They encourage customers to recycle all boxes and packing material.
Strategies You Should Steal:
Discover What You're Missing
When busy, single mom Ashley Tyrner couldn't find the time to make a weekly trip to her local farmers market, she decided to create a service that would deliver the fresh, local products she wanted to doorsteps of busy parents like herself.  Think of your own lifestyle—what product or service do you wish was created to make your life easier—or healthier?  If you are having difficulty finding the one thing that may be missing from your world, chances are others are missing it too.
Gain Some Business Sense
It takes more than passion to create a successful business.  Ashley spent time working in the fashion industry where she honed her business chops—turning Ceasar Galindo into a successful fashion brand.  Take advantage of every opportunity you have to learn the art of business—from accounting to marketing to finding funding.  Everything you learn outside of your passion area can go a long way towards making that passion a successful business.
The Details:
Farmbox Direct
2440 Broadway, Suite #2
New York, NY 10024
917-512-8307
http://www.farmboxdirect.com
Facebook, Twitter, Pinterest
Talk to us:  Do you have an earth-friendly, socially conscious business you would like us to profile?  Send us a note via Twitter or Facebook!