Top 10 Budget-Friendly Apartment Decorating Ideas
Decorate Your Apartment Without Breaking Your Budget
Whether you are moving into your first apartment in the city or just looking to add some fresh design to a rental space you've had for years, we have 10 easy ways you can decorate your apartment without breaking your budget.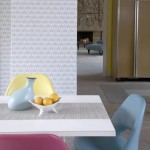 Invest in Temporary Wallpaper
This is such a great design invention for those of us in rental spaces where we are unable to paint the walls. And, it's also great if you just happen to be someone who doesn't want to make a wall color commitment. "Most peel-n-stick paper promises that your paint job won't be damaged and when you do decide to remove it, wiping down the wall will be the extent of the cleanup." –Apartment Therapy
Hang a Mirror
Mirrors always help make a room look larger, but where you put the mirror can really make a difference your space. "Place a mirror opposite a window and it will bounce light around the room, making the space feel airier. The bigger the mirror, the better."–Real Simple magazine
Use Floating Shelves
Floating shelves will give you the storage space without the added bulkiness of bookcases. "Use floating shelves to show off a collection of decorative objects and mementos. Stagger the shelves for a unique look. Basic shelves serve as a strong basis for rotating displays. They will go with almost anything, which means you can change the look of the vignette, leaving the shelves in place and avoid making any more holes in your apartment walls"—Better Homes & Gardens
Hang Fabric Curtains
Even if you move into an apartment that has blinds, adding fabric curtains will give your room extra color and texture. Plus, it will have conserve energy—providing a buffer for hot and cold weather. "Nothing made me feel more grown up than my first curtains and roman shades that weren't made of paper or plastic," said Young Huh. "Fabric curtains immediately add luxurious structure and color to a room."—House Beautiful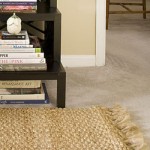 Add a Rug—Even Over Carpet
People often think about adding rugs to hardwood floors, but over carpet? Layering a rug—especially one in a contrasting color to the neutral carpet, is a great design element. "Plush carpet is comfortable underfoot, but a rug will add texture and help define space."—Southern Living
Paint Your Furniture
Your walls are not the only places where color can be added. "We're not saying every piece has to be a bright yellow or bold turquoise, but that surprising pop of color on a coffee table or your kitchen chairs can make a huge difference."—Huffington Post
Hide Your Storage
Look for furniture that can also double as storage such as ottomans or chests. "Another fine option is placing certain furniture—such as chairs, tables or cabinets—at an angle in the corner of the room to create a built-in hidden spot for hiding extra stuff."—Business Insider
Think Small
You don't have to paint the walls or get new furniture just to update your space. Consider switching out smaller items such as lampshades and throw pillows to give a room an entirely new look. "Just like throwing on a different pair of shoes can change an outfit completely, switching out your room's smaller items can give it a whole new appearance."—Apartment Guide
Change the Hardware
Give your cabinets and doors an entirely new look just by changing out the handles and knobs. We suggest looking at local flea markets for interesting (and budget-friendly) finds. "New handles can change everything, and you can even do the installation yourself."—Style Caster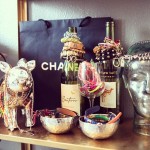 Reuse Your Wine Bottles
We are all about reusing products instead of throwing them away which is why we loved this idea from POPSUGAR. "Use recycled wine bottles to store the plethora of today's arm candy bracelets is one of the best ideas we've seen in awhile."–POPSUGAR
Another great tip for making your rental space feel more like home? Give it a good green clean. We have several all-natural products you can purchase or give us a call and we'll do the cleaning for you!
Talk to us: What is your best trick for decorating a rental space?