5 Ways to Enjoy Bike to Work Day in NYC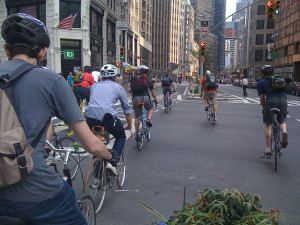 What are you doing on Friday, May 16th?  If you have a bike (and if you don't, you can use Citi Bike, NYC's bike sharing system), we hope you will be joining us for National Bike to Work Day.  Biking to work in New York City is not only good for the environment and good for your health, but it gives you a whole new connection to the city we love—allowing you to see and experience the beauty of New York in new and exciting ways.
Here are 5 things you should do to have a safe and enjoyable time during Bike to Work Day:
Plan Your Route
Do not assume the same home-to-work route you take by car or public transportation will be the same one you should take when riding a bike.  There are a wide variety of bicycle lanes and paths throughout the city, so choose a route that suits your skill and comfort level as well as gets you to your destination.  You can find a detailed map of bike lanes throughout the five boroughs by downloading the NYC Cycling Map or visit the site Ride the City which gives you an interactive route planning platform where you can save routes to your profile.
Do a Pre-Ride Check
Before you head out on your bike, check to make sure everything is working properly.  You should do a quick check of:
Tires:  Make sure they are properly inflated and the treads are not too worn.
Brakes:  Spin the wheels to make sure they are not rubbing against the brake pads and apply the brakes to make sure they work.
Chain: Run your bike through its range of gears to make sure there are no problems with chain slippage or shifting.
Seat and Handle Bar:  Make sure your seat and handle bar are set at the right height and are both secure.
Read:  "5 Things to Check Every Time You Ride"
Follow the Rules of the Road
In NYC, bicyclists have the same traffic rules as motorists and are also subject to the same penalties and fines.  Bicyclists must yield to pedestrians, stay off the sidewalk, obey traffic lights, ride with traffic and use marked bike lanes or paths when available.  Click here to download a complete list of bicycle laws, rules and regulations.
Lock Up Your Bike
New York City has numerous bike racks and shelters for you to park your bike throughout the city. Click here for a map of rack locations or use the Citi Bike app for Citi Bike stations.  You should use a U-lock or heavy chain to not only lock your bike to a designated rack, but to lock your wheels to your frame and all "quick release" parts.  If you would like a little art with your ride, park your bike in a David Byrne Bike Rack.  These eye-catching pieces of art were fabricated by the musician's gallery PaceWildenstein.  There are eight locations in Manhattan and one in Williamsburg, Brooklyn.  Click here for a map.
Participate in the Fun
Transportation Alternatives (T.A.) will be hosting numerous morning "fueling stations" throughout the city where you can grab a free Brooklyn Roasting Company coffee, KIND bars and granola as you head into the office.  You can also join the T.A. folks for a fun "Bike Home From Work Party" with pop-up shops showcasing bikes and accessories, local food and drink vendors and even free T.A. Bike Valet and extra Citi Bike parking.  Click here for more details: http://bikenyc.org/biketowork
Talk to us:  Where is your favorite place to bike in NYC?