5 Ways to Use Painter's Tape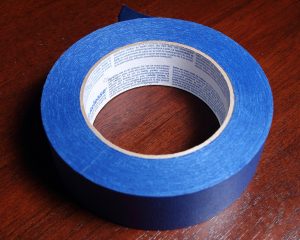 If you've just painted a room, you might find yourself with an entire roll of leftover blue painter's tape. What in the world are you going to do with blue painter's tape?! Unlike it's sister duct tape, blue painter's tape doesn't really come in fancy designs and colors—it's blue, and not even a very stylish color of blue.
Before you toss the excess tape in the back of your closet waiting for the next interior color change, consider keeping it close by and use it in one these handy everyday ways:
Food Saver
Those plastic chip clips never seem to last and trying to re-close a bag of frozen vegetables never works. Use your painter's tape to create a disposable seal for your packages—everything from chips to cereal to frozen veggies. And, especially with packages for dried goods, one tape strip can be used more than one time—saving your food as well as some dollars. Extra tip: Write on the tape the date the food was opened—with just a quick look, you'll be able to see what might need to be tossed out of the pantry or fridge.
Keeper of Small Objects
You're working on a small home improvement project that requires a lot of small items such as screws and nails. Instead of continually digging for what you need, cut off a strip of blue painter's tape and place the items on the sticky side. You can move the entire strip and all of its contents with you as you work. Extra tip: If you are working on a ladder, place the sticky side down creating a blanket of sorts over your objects. This will prevent the tape from falling to the ground.
Picture Frame Hanger
Wondering what your beautiful pieces of art (or photos) will look like once they are all on the wall? After tracing your frames on paper (we recommend craft paper) and cutting them out, hang them in their soon-to-be positions with your painter's tape. The tape is not only easy to move, but it won't take off the paint on your wall. Extra tip: From Bob Vila: "Once you commit to a final configuration and nail the arrangement to the wall, ball up a little extra painter's tape to place behind the bottom of each frame—you won't see any shifting."
Keep Caulking Straight
Just as you use it for painting, you can also use it to get a more precise line with caulking. Tape off both sides of where you want to caulk in order to get a clean line. Once all the caulk has been squeezed, smooth with your finger—you don't have to worry about smearing because you will just take it off with the tape. Extra Tip: Again, from our friend Bob Vila: "Stick to using long pieces of tape rather than short strips so that you don't run the risk of changing your line's angle in the slightest."
Woodshop Tool
Painter's tape can be a woodworker's best friend. After marking your cut with a pencil, place a strip of tape along the line on the side of the wood you will not see. The tape will hold the wood together when you make your cut, allowing you to be free of splintered edges. Extra Tip: You know the rule of measure twice, cut once? Use your blue painter's tape to write down the exact measurements of what you are cutting—it will be like a sticky note on the side of your saw.
Sources:
BobVila.com
Household-Tips.com
image courtesy of flickr CC/Wil C. Fry