5 Things to Add to Your Entryway



The winter months are never kind to our indoor spaces—especially our entryways.  Whether you have a spacious hallway greeting your guests or a small nook in your apartment, adding some little touches to this often overlooked space will go a long way towards making your guests—and you—get over the wintertime blues.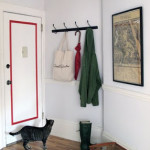 Paint Your Door
We love when people add the unexpected pop of color to the back of the front door (checkout some of Pantone's Spring Colors if you need some inspiration) and this image shows that you don't have to paint the entire door to get the desired affect. Photo photo on The Urban Life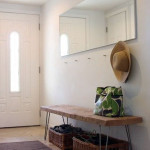 Hang a Mirror
A mirror by your front door is not only great for giving yourself a last minute look before heading out the door, but it also makes a small space appear bigger.  The length of this mirror is fantastic. Photo found on Houzz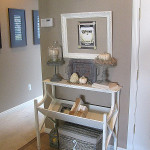 Have Stylish Storage
Although this is usually the place where all things are dropped—shoes, coats, bags—it doesn't have to look messy.  Invest in storage bins that will go with the rest of your décor like the gray basket in this image.  You can also add decorative boxes to a table for keys and loose change. Photo found on Design Ideas:  48 Foyer Ideas for Apartments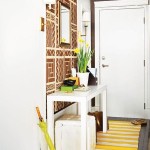 Use Color to Create a Space
If you don't have an entryway, create one by using color.  In this image, the graphic texture of the wall and the bright color of the rug make this space seem like it's own room—even though it is part of a studio apartment. Photo found on Apartment Therapy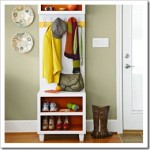 Find One Piece that Works
Especially if your space is small, try to find one piece of furniture that serves multiple entryway purposes—giving you a place to hang coats, store shoes and put easily lost items (we're talking to you sunglasses).  What we love about this image is that it also serves as a bench. Photo found on Apartment Allure
Talk to us:  What is your biggest entryway challenge?  Let us know and we'll try to solve it in a future blog!