5 Cool Things to Do with Wine Corks
A recent Yahoo! study found that three of the five most popular days for drinking are in November and December:  Thanksgiving, Christmas and New Year's Eve.   With wine being at the top of the most popular alcoholic beverage list, you might be looking for ways to reuse those great cork stoppers—especially if you can upcycle them into items you can use throughout the rest of the holiday season.
Here are some of our ideas: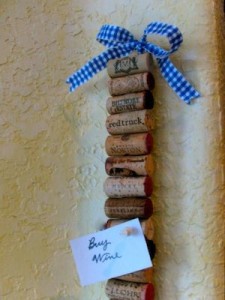 Memo Strip via May Days
This is the perfect, quick craft for right after your Thanksgiving celebration.  While it can be used as a memo strip all year long, you can dress it up for the holidays by filling it with Christmas cards and photos.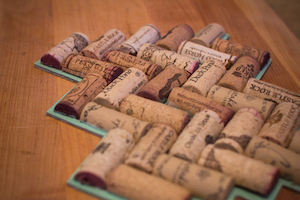 Herringbone Trivet via CityBee Studio
By cutting your wine corks in half (we suggest not to do this right after you have consumed the wine), you simply hot glue the halved corks into a cute herringbone pattern.  These will look great on your holiday table.
Candle Holder via Two Twenty One
This is for the non-crafty among us.  Put a candle inside a small glass cylinder and place that inside a larger glass cylinder, dumping the wine corks into the larger container to fill up the space in between.  Perfect centerpiece for your table.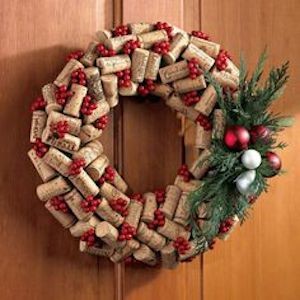 Wreath via Lolly Chops
Do you have around 180 wine corks taking up space?   If so, why not take on this great craft project.  It looks more complicated that it actually is –you only need a straw wreath, glue gun, wine corks and some twine.  Stick in some holiday berries or greenery and this is the perfect addition to your home holiday décor.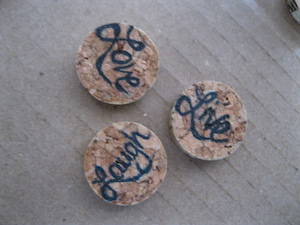 Wine Glass Charms via the Green Divas
When you are entertaining a crowd, wine glass charms are a must. With these simple DIY options, you can write  a personalized message on each charm and allow your guests to take it home.
Because we are an eco-friendly cleaning company, we can't talk about wine without giving you a tip for removing red wine stains from your carpet.  After you blot up the spill as much as possible, sprinkle salt over the stain.  Wait for it to soak up the red wine (no longer than 5 minutes) and then rinse with cold water or run over the spot with a vacuum.
Talk to us:  What is your favorite wine to serve when company joins you for dinner?