How to Keep Wrapping Paper Organized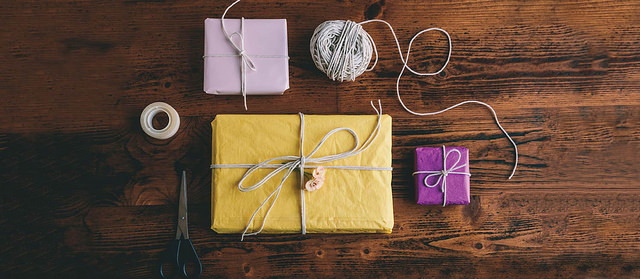 image courtesy of flickr CC/Personal Creations: http://www.personalcreations.com

Whether your holiday shopping is already finished or hasn't even started, there is a moment of Christmas truth getting ready to happen:  you have to wrap all of your purchases.  Nothing can take the holly and jolly out of your holiday spirit more than looking around your home at the mess and chaos caused by wrapping presents.  This year, try some of these tips for keeping things organized and neat.

Stock Up on Supplies
Before you even begin to think about your next wrapping adventure, make sure you have all the supplies you need. This simple step not only helps you have things you need on hand, but eliminates the opportunity for you to overbuy supplies.  In addition to the basics—wrapping paper, ribbon and tape—The Container Store also suggests you invest in quality scissors, gift boxes, tissue paper and gift bags.  "Gift wrapping pros will tell you—you're only as good as the materials you're working with."  We also suggest stocking up on gift tags and pens—holiday wrapping is usually done in high-quantities and gifts should be tagged as soon as they are wrapped.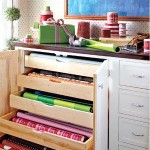 Use Old Furniture
We love this idea from Real Simple:  use an old dresser. Dedicate one drawer to rolls of giftwrap, one to tissue paper and packing material and one to gift bags and small gifts you want to save.  Smaller drawers house ribbon, gift cards, tape and scissors.  If you don't have an old dresser to use, consider using an old toy bin or trunk—all of these items will fit nicely in a large closet when not in use.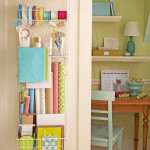 Over-the-Door Storage
Those great over-the-door storage units are perfect for keeping wrapping supplies handy, but also out of site. According to bhg.com, you should line up spools of ribbon by size or color on the top shelf and store frequently used tools like scissors and tape on the middle shelf.  Then, drape tissue paper over the bar of the shelf and store wrapping paper rolls and gift bags at the bottom.  Viola!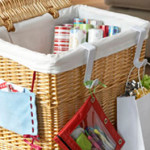 Put It in a Hamper
Those beautiful (and often inexpensive) wicker hampers you see are not just for clothes.  They are the perfect size for fitting multiple rolls of wrapping paper.  Hang hooks on the outside to keep ribbon and gift bags organized and use a pencil pouch to house scissors, gift tags and tape. This is a great option if your wrapping space is mobile—you can simply move the hamper from the kitchen table to the bedroom without having to re-organize supplies.

Talk to us:  What is your strategy for keeping wrapping paper organized during the holidays?

image courtesy of flickr CC/Personal Creations