4 Tips for Hosting a S'more Party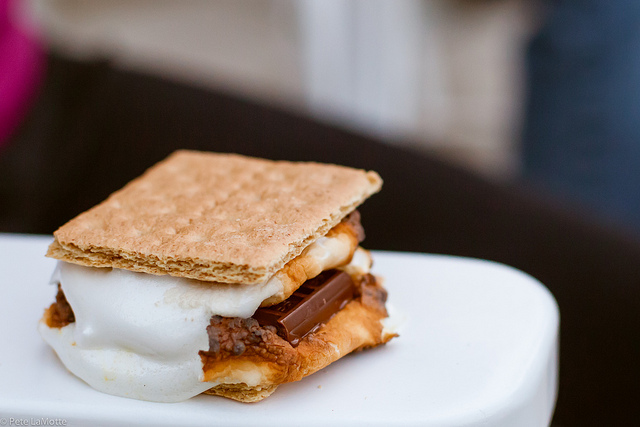 Monday is National S'more Day and we couldn't be happier.  I mean, who doesn't love melted chocolate and gooey marshmallow smashed tightly between two graham crackers?  This year, why not celebrate the special day with a S'more Party.
Here are 4 tips for hosting your own s'more party:
Fire Pit Optional
There is nothing better than sitting around an open fire roasting marshmallows on a stick.  But, an open fire pit is not always an option—especially if you have a small outdoor space or you are camping.  Martha Stewart shows you how to make s'mores using your grill (you will actually be "grilling" the graham cracker) and The Kitchn gives you instructions for using a couple of cans of sterno.
No Tables, No Problem
If you're looking at your guest list and panicking that you don't have enough table space, relax.  We love this idea from The Kitchn:  Make tables out of old doors propped up with plastic milk crates or bricks.  Once you have them assembled you can drape each table with old sheets for a beautiful table.  Chairs?  These tables sit so close to the ground that you don't even need chairs.  Just throw some sheets and old pillows on the ground next to the table for a comfy, relaxed feel.
Create a S'More Bar
Yes, a s'more bar.  While we all love the traditional graham cracker stuffed with chocolate and marshmallow, today's s'mores can be even more fancy and fun.  There are numerous graham cracker and cookie options (vanilla wafers, anyone?) as well as flavored marshmallows (caramel swirl may be the end of us).  Checkout this great list of ingredient options from Kitchen Concoctions—they even include recipes for mixing/matching ingredients to create things like "The Christmas S'more" (cinnamon graham cracker, peppermint marshmallow, Peppermint Pattie).
Think Cleanup
As a cleaning company, we go into almost any activity or event thinking of ways we can make the cleanup easier.  Consider putting craft paper down on tables, have all the ingredients stationed on a "wheel cart" so you can move it back inside and place trash and recycling receptacles throughout the yard.  And, since s'mores are not the cleanest of treats to eat, help your guests stay clean by filling baskets with containers of eco-friendly wipes (there's a great list of options from Inhabitots) or wet reusable cloths (put the cloths in water proof baggies to keep them moist).
Talk to us:  What is your favorite combination of ingredients for a s'more?
image courtesy of flickr CC/Pete