Host a Sophisticated Clothes Swap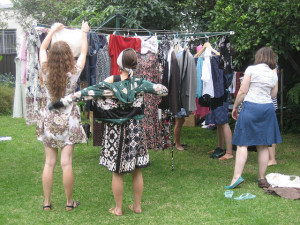 Take your green to the fashion scene by hosting a clothing swap with style. Gather friends and family to trade treasures, reduce your collective carbon footprint and save a little money, too. Here's how to set your own swap on the road to success:
Timing is everything. Entice your guest list to join in by planning your clothing swap at the end of a season. It's the perfect time to clean out closets and drawers, plus your green-minded pals will appreciate having a plan for their gently used items. Create a guest list that encourages participation from fashionistas of all shapes and sizes and invite them virtually, via email or online invitation.
Rule your swap. Successful clothing swaps are not free-for-alls, they're carefully planned out with guidelines that ensure attendees leave looking forward to the next one. Let guests know how many items to bring, what condition items must be in and what, if any, pre-work is required. For instance, you might ask each guest to bring 10-20 items. They should be clean, free of debris, in near perfect condition and sorted by type of clothing before coming to the event. Keep it interesting by allowing guests to bring accessories as well.
Run it well. Display items by type in a large area to avoid overcrowding and prevent shoppers from becoming overwhelmed. Just like the rules of a group gift exchange such as White Elephant or Yankee Swap, draw numbers to determine the order of shopping. Make sure to provide guests with a couple changing areas, equipped with a few full-length mirrors for the best possible shopping experience.
Give together. Once you've shopped, pack up remaining items and take them to a charity of the group's choice; possibly a women's shelter or local Goodwill. Sharing with others allows items to continue to be useful for those in need.
Broaden your horizons. Not interested in hosting a women's clothing swap? Consider hosting for children's clothing or toys. When you think about the short window children use their belongings, it makes a lot of sense. Their items almost always remain in good shape, ready to be reused and recycled in the home of another little one.
Talk to us: Have you gotten your swap on? If you've successfully swapped items of any kind with a group of family or friends, we'd love to hear your tricks of the trade in the comments below!
image courtesy of flickr/BY CC 2.0