5 Things to Organize with Dollar Store Finds
A recent study of the most popular New Year's resolutions found that "getting organized" and "spending less" are number 2 and 3 on most of our lists.  Did they make it to your list this year?  If so, we have five ways to accomplish both using these simple dollar store finds to keep your home organized this year.
You want to organize….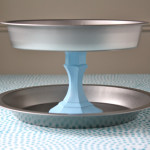 Small Bathroom Items
Ponytail holders, bottles of nail polish, and earrings…oh my.  If your bathroom counter is a little cluttered with hard to organize pieces, create a tiered tray that is not only functional, but looks beautiful.  Glue dollar store candleholders (paint them if you would like) to the center of cake tins or plates to create this organizational beauty (hint:  it can also be used to house office supplies, spices, etc.). (via yesterdayontuesday)
Writing Utensils
A great way to keep pencils, pens and crayons organized is by using a dollar store plastic Popsicle tray.  This mobile organizational unit is perfect for keeping crayon colors organized (you can fit 6-7 small crayons in each slot) and is the perfect addition to a craft table or homework desk. (via teachjunkie)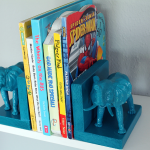 Books
Did your child receive a lot of books for Christmas?  Help keep your bookshelf organized—and your child happy—by creating these animal bookends.  Purchase your favorite plastic animal from a dollar store, paint it a color that will match your child's room and glue it onto a painted wooden base.  Complete instructions are found via lovegrowswild.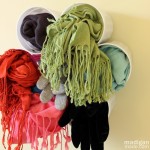 Scarves, Hats & Gloves
The colder weather may be playing havoc with your hall closet or mudroom—especially if you have multiple people living under one roof.  Create the perfect winter gear storage area by using dollar store plastic drink cups. Connecting multiple cups together and hanging them from a wall gives you an instant organizational tool that doesn't take up much space.  You can paint the cups to color-code them for each family member if needed.  (via madiganmade)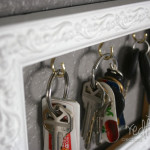 Keys
Don't get us started on how many times we lose our keys.  Find a dollar store picture frame you love (you can also get an old frame at a flea market) and add small hooks on the inside of the frame (take out the glass!).  Voila, perfect key storage!  This is a great solution for dorm rooms too!  (via redflycreations)
Talk to us:  What is your best organizational find from a dollar store?