4 Disposable and Sustainable Tableware Options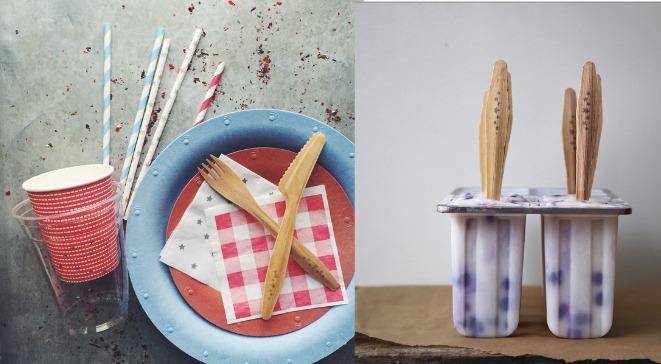 Getting ready for your red, white and blue celebrations this weekend?  While we are celebrating our independence we also want to celebrate our planet with these great disposable AND sustainable tableware options:
Susty Party
Compostable, non-toxic, renewable, and stylish tableware made by our Brooklyn neighbors, Susty Party.  From plates to cups to utensils, their eco-friendly offerings are colorful, functional and party-ready (you can even order a 'Party Pack' with everything you need!).  Another plus?  The company also provides jobs for the blind with their co-packing partner Clovernook Center.
Favorite Product:  Straws—the paper straws come in two different sizes (smaller for cocktails!) and multiple colors.  We are mixing and matching red, white and blue for our July 4th festivities.
VerTerra
We love this statement from VerTerra's website:  "While we can't ensure that your meal will be guilt free, we can ensure that your dinnerware is."  Founded on the belief that it is possible to combine high design with environmental responsibility, VerTerra tableware is made from fallen leaves, steam, heat and pressure and can go from table, to fridge to microwave.
Favorite Product:  Fixed Side—Boats—We've always wondered how we could sustainably serve our summer banana splits!
Bambu
Creators of All Occasion Veneerware®, it is the only single-use product made from 100% bamboo and Certified Organic.  These products are so beautiful that they can easily be used for elegant dinners as well as patio parties.  "For us, sustainability goes well beyond the balance between what we take from the earth and what we return to it," states the brand's website.  "It's a philosophy that applies to how we conduct ourselves as a business."
Favorite Product:  Bamboo Sporks—yes, sporks.  We are all about purchasing products with multiple use.  What could be better than one utensil that is both your fork and your spoon?
World Centric
World Centric products are made from wheatstraw, a leftover agricultural fiber and an annually renewable resource.  Worried about gluten?  Wheatstraw is the remaining plant fiber after the grain (which stores the proteins and allergens) has been removed—making it gluten-free.
Favorite Product:  Three Compartment Plate—perfect for the guest who doesn't want his or her food to touch.
If you can't find the above products locally and/or do not have time to order online, you can still choose more eco-friendly options from brands such as Chinet (products are said to be fully biodegradable and compostable) and Party City's Eco Party line.
Talk to us:  What will you be serving on your eco-friendly tableware this July 4th weekend?