Fall Porch Ideas
Halloween
Halloween Decorations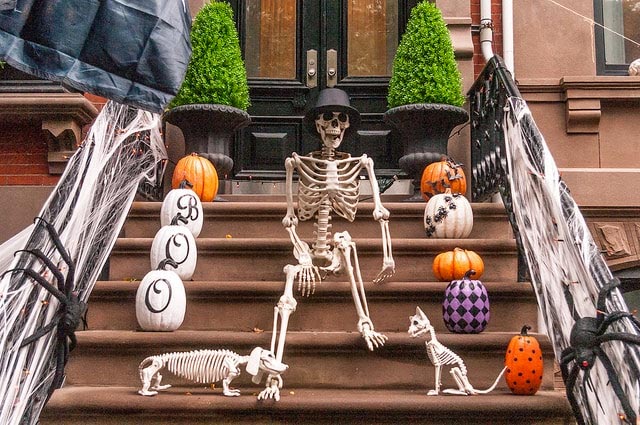 Soon little ghouls and goblins will be making their appearance on our doorsteps. Are you ready? While candy is a must (no one wants to be on the receiving end of a trick-or-treater scorned), we also love how some—especially New Yorkers—are prepping their stoops for Halloween fun. Here are our favorite stoop decorating ideas along with ways you can create a similar feel even if you are pressed for time and money: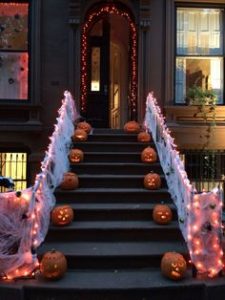 Packed with Pumpkins
We are wondering how long it took this homeowner to carve all those pumpkins! This stoop is just the right amount of scary for the littlest of visitors—cobwebs with fake spiders mixed with the more friendly pumpkins makes this a great Halloween sight.
Quick Idea: If it's hard to find fresh pumpkins this late in the Halloween season, pick up some "craftable" ones from stores such as Target or Michaels. They are easy to carve, making them an ideal activity for families. Plus, you can save them to use again next year.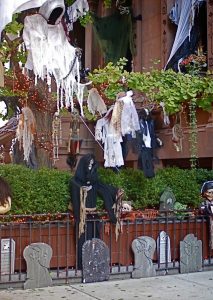 Going beyond the Stoop
If you are lucky enough to have some yard or garden space, don't be afraid (no pun intended) to fill up the space with Halloween scariness. Notice the ghosts, ghouls and skeletons are not only in the tree, but up into the windows. We can only imagine how much fun this is at night.
Quick Idea: Yes, this is definitely a "go big or go home" display. However, you can achieve the same level of scariness in a big space by creating some DIY ghosts. You will need white balloons, black string, cheesecloth, and black duct tape. You will find complete instructions here. Want the ghosts to glow? Look for balloons that are glow-in-the-dark.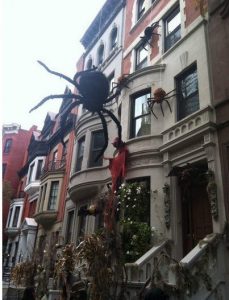 The Cure for Arachnophobia
If you have even the slightest fear of spiders you will want to steer clear of this NYC porch. Dangling from their "webs" high above the doorway, these creatures are even scary during daylight hours. What we love about this is the use of space—we often forget to decorate "up", especially if our porch space is tiny.
Quick Idea: If your weekend leaves little time to create gigantic spiders, create a gigantic spider web. Using clothesline style rope and some ceiling hooks (depending on your space), you can create a web big for the whole block to see. Click here for directions.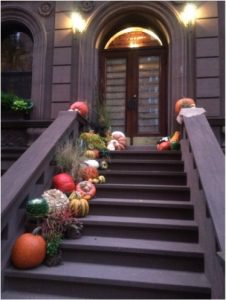 Ready for Thanksgiving
There really isn't a lot of time between passing out treats and picking up turkeys. With its mixture of gourds, pumpkins and fall foliage, this porch works for Halloween and also looks good for Thanksgiving guests. You will want to make sure your gourds/pumpkins stay fresh for the whole season—click here for ideas on how to make that happen.
Quick Idea: You don't need to decorate the entire stoop. Grab a couple of mums and a handful of gourds to decorate a planter or two by the door.
As always, a pumpkin or two–or even a skeleton wearing a hat (see our top photo)–is all you really need to make your stoop inviting to trick-or-treaters and Halloween guests.  Happy Halloween!
Talk to us:  Share a picture of your stoop with us on social media–Twitter or Facebook.
Top image courtesy of flickr CC/Bill Benzon