Eco-Friendly Cleaning Tips
Eco-friendly ways to clean countertops
Kitchen Cleaning Tips
Here Are Some Eco-friendly Ways to Clean Your Kitchen Countertop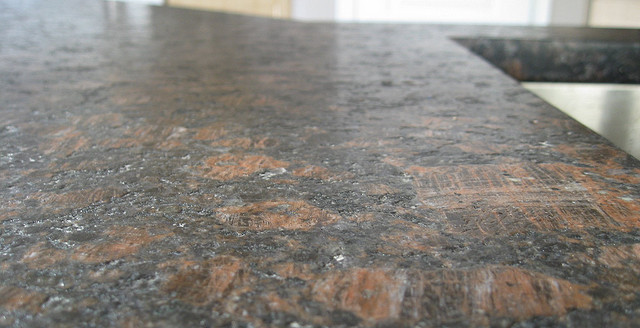 We all know the family parties and household gatherings always end up in the kitchen, so you want to keep those countertops looking their best!  But keeping those large, beautiful surfaces clean can be tricky.  Here are some eco-friendly ways to clean your kitchen (or bathroom) countertop, no matter what kind of surface you have:
Butcher Block – If you have stubborn stains use salt and lemon juice to remove them, but for everyday spills a wet cloth and natural dish soap will do.  Make sure you rinse and dry the butcher block with a clean cloth.  Every three months you will need to coat the wood with olive, almond or walnut oil; let it soak in overnight; then wipe off the excess with a soft, dry cloth.
Stainless Steel – Stainless steel countertops can be cleaned with a simple baking soda and water paste.  Sprinkle a small amount of baking soda on the counter and use a damp cloth to gently scrub, and then rinse with a clean, damp cloth. For touch stains or dried food, let the baking soda/water paste sit for a few minutes before you scrub it clean. After cleaning, wipe the counter with a clean dry cloth to buff the stainless steel.
Granite and other natural stones – Warm water, natural dish soap and a soft cloth is all it takes to clean your beautiful granite countertops. Use a second cloth to dry the granite to remove the excess water. If you have hard to remove stains or dried food, cover the area with a paste of baking soda and water, top it with a wet rag and leave it to slowly dry.  As the paste dries, it will lift the stain out of the stone.  Repeat this process until no discoloration remains in the granite.  Rinse with water and dry with a soft cloth.
Marble – Marble is another easy to clean countertop, using just water and natural dish soap. Mix the detergent and water and use a sponge to wash the marble. Rinse completely and buff with a soft, dry cloth.  Never let the marble air-dry.
Quartz – Unless your quartz counter is really dirty, a simple wipe down with water will do.  When you need to do a good cleaning, hot water and a mild liquid detergent will suffice or water and vinegar can also be used.  Be sure to rinse and dry the surface thoroughly to remove residue and streaks. Never use bleach or anything else abrasive which will damage the smooth surface of your quartz countertops.
Eco-Friendly Cleaner for Other Surfaces – Vinegar is perfect to clean other countertops because it contains a powerful acid that kills E. coli bacteria and salmonella. Use equal parts vinegar and tap water to clean and disinfect countertops in both the kitchen and bathroom by using just a soft cloth.
One last tip – Be sure to never use lemon, vinegar, or any other acidic items to clean marble, granite or other stone countertops because it will eat into the stone.
Remember; clean your countertops frequently to avoid bacteria and germs from coming in contact with food or everyday items.  Using these eco-friendly cleanings will help keep your countertops clean and keep your family healthy!
Talk to us:  What is your favorite countertop material?
image courtesy of flickr CC/
Alison and Fil