bedroom cleaning tips
eco-friendly bedrooms
Make the perfect bed
sustainable bedding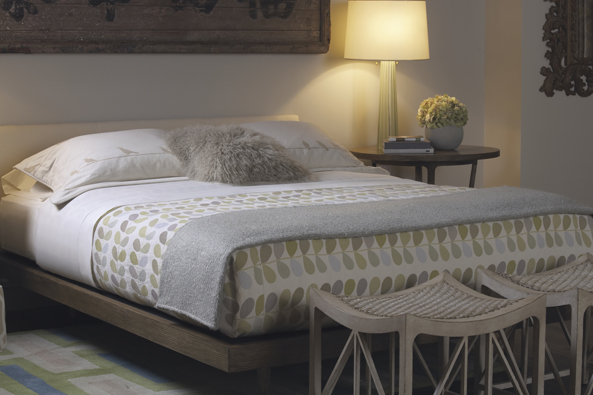 Considering we spend almost a third of our lives in bed, it should be the most luxurious, comfortable place in our home.  Yet, most people don't even make their beds every day.
As cleaning professionals, we are big believers in making your bed–not only will it give you the sense of accomplishment first thing in the morning, but if you make it right, it will be the perfect sanctuary after your long day.
Here are 5 tips for making the perfect bed:
Tip #1 –Buy nice sheets.  Oh, yes, we love the wrinkle-free sheets with high thread counts, but before you put those sheets on the bed, give them a quick 'safe wash' by using a combination of baking soda and white vinegar or purchasing a natural laundry detergent.  Better yet, look for bedding made from sustainable materials such as organic cotton or bamboo.  Also, choose a natural-fill pillow—this will make a world of difference to those who suffer from allergies or asthma.
For an extra pop of freshness, spray your bed linens with a DIY eco-friendly linen spray.  Just add water and a few drops of your favorite essential oil (we love lavender) to a spray bottle.
Tip #2 – Instead of a fitted sheet use, a flat sheet! Tuck a flat sheet around the mattress and avoid the stretching, pulling and eyesore of the fitted sheet.  The flat sheet provides a clean, crisp look to the bed just like you see in hotels.
Tip #3 – Place your top sheet with the finished side facing down. That way the patterned side is up when you turn the sheets down.  Plus you'll also feel the softest part of the sheet while you're in bed!
Don't want to use a top sheet, but want the feel of one? Stuff your comforter inside a light linen duvet cover and the duvet cover will do the job of a sheet without getting untucked and bunched under the blankets.
Tip #4 – Top off your bed with a fluffy duvet (some great options from The Company Store) and fold the flat sheet over the top edge of the duvet so the pretty pattern can show.  Or simply fold the duvet in half at the end of the bed. Be sure to buy the right size comforter to fit inside the duvet cover. You have to actually measure your duvet cover and buy an insert two or three inches larger than your comforter.   Duvet covers are nice, because the cover can be easily taken off and washed without having to wash the big large comforter.
Tip #5 – Decorate with pillows!  But the key is to create a triangular shape – put three large pillows at the back against the headboard or wall.  Then the next row should have your two standard sleeping pillows, and then add your small decorative pillows right in front. Be sure to buy a bolster pillow. This is a round tube like pillow that fits great between the gaps of the other pillows and can prop you up while you sitting in bed.
If you follow these tips, you'll not only have the perfectly made bed each and every day, but you'll be slipping into your own luxurious retreat.
image courtesy of flickr CC/Sarah