Eco-Friendly Cleaning
House Cleaning
What you are not cleaning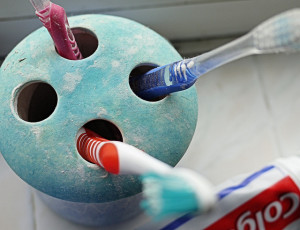 You may be doing a great job at cleaning your countertops, floors and bathrooms, but when it comes to keeping your home truly clean and healthy (especially healthy!), there may be a few things you are missing.
Here are five things you should be cleaning:
Toothbrush Holder
According to a post from CafeMom.com, a 2011 study named the toothbrush holder the third most germ-infected place in your home and because that place houses your toothbrushes, you run a high chance of transferring those germs into your body.  Rinse the holder with hot water and use a pipe cleaner to reach inside the holes to scrub the inside clean.  Fill the holder with mouthwash (click here for some DIY mouthwash recipes), allow to sit for 2 minutes, rinse with warm water, and let air dry.
Trash Cans
Even if you regularly use trash bags, you need to still clean your trashcans every two months, suggests BrightNest.com.   After you have emptied the trash itself, take the cans outside and spray with a hose (if you don't have access to an outdoor hose, use your shower or bathtub).  Spritz with vinegar to absorb odors and wash the inside with a scrub-brush.  Let air dry outside if possible—sunlight will help kill any additional mold.
Phones
Spray a clean cloth with a natural all-purpose cleaner like our Ecospirit brand (or make your own mixing 2 cups of water, 1 cup of hydrogen peroxide and ¼ cup of lemon juice) and wipe down your phones and cords.  Apartment Therapy suggests also dipping a tissue in alcohol to clean the mouthpiece and earpiece—especially if someone in your home has been sick.   This same trick works great for cleaning remote controls too!
Reusable Grocery Bags
You are doing a great job of saving the planet by taking your own bag to the grocery store, but when is the last time you washed it?  While many may be machine washable, A Drop of This blog suggests using a DIY disinfectant spray made with a mixture of vinegar, distilled water and your favorite antibacterial essential oil (I am loving clove oil).  Spray your bags after every grocery trip and let air-dry.
Air Vents
Try this great trick from Home Sweet Homebodies:  Grab a metal butter knife and a clean soft cloth.  Wrap the cloth around the knife, spray the vent with an all-purpose cleaner (use the recipe above) and insert the knife between the metal slats. Clean side to side, readjusting the cloth as necessary so you have a clean area to use. Rinse and repeat.  This trick works especially well for apartment dwellers who may not be able to remove their vents to clean.
Talk to us:  What is the one spot in your home that you don't think about cleaning?
image courtesy of flickr/CC