DIY paper crafts
Reuse holiday paper
Upcycle Paper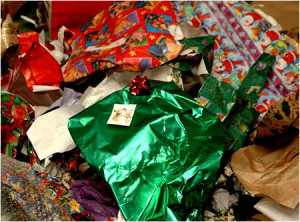 Now that all the gifts are unwrapped, you may be looking at a floor filled with old wrapping paper, boxes and holiday cards.  Before you grab a trashcan—and call us to give your home an end-of-season clean–consider upcycling these materials into new and useful items that you can use throughout the new year.
Shipping Boxes to Magazine Racks
We love this idea from Instructables: Create a magazine rack out of a medium size cardboard shipping box and old newspapers (comics and movie ads create the best designs).
Holiday Cards to Ornaments
The beautiful DIY Christmas Ornaments from All Things Paper are made from a flower-painting book, but colorful holiday cards will work too.   Punch 1-inch circles  from your cards and adhere circles bottom to top around a ball ornament using a glue gun.  This is a great way to bring life to an old ornament.
Wrapping Paper to Desk Accessories
Looking for some chic additions to your home or office desk?  Look no further than the wrapping paper crumpled up on your living room floor. Smooth it out the best you can and wrap it around a cleaned out soup can—the wrinkles in the paper will actually give this piece some texture. You can also wrap this around a bigger object—such as a coffee can—and use it to store utensils on your kitchen counter.
Chip Bags to Party Tassels
Thank you, Paging Supermom–this is a great way to reuse the chip and snack bags we go through during our holiday parties (and plan to go through for New Year's Eve!).    Once you wash out the bags, you will cut and twist them into fun party tassels that can be used on gifts or as party decorations.  This trick also works for tissue paper.
Shirt Box to 3-D Star
Trace and cut out two stars from an old shirt box using this template from Grey Luster Girl.  Once you score both stars from the tips to the indented parts and push them out on the score lines, you glue the two stars together and paint.  You can also use old cereal boxes—a great craft for kids on a snowy day!
Talk to us:  How will you reuse your holiday paper waste?