Eco-friendly dessert recipes
Thanksgiving Recipes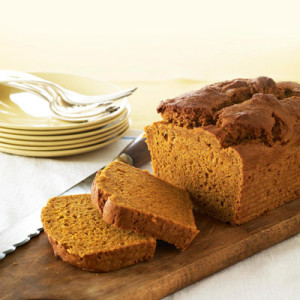 Ready for Thursday?  If you are still scrambling to find a recipe for an appetizer, side dish or dessert, we have just what you need for making this Thanksgiving eco-friendly and delicious.  For the past couple of weeks we have been sharing recipes for appetizers and side dishes–this week, we are all about the sweet tooth.
Recipes for this week:  Desserts.
Even before your Thanksgiving dinner begins, you may be thinking about the wonderful sweet treat you will be devouring at the end of your meal.  Here a couple of delicious and organic desserts you can share with your Thanksgiving crowd:
Pumpkin Bread via Good Housekeeping
Ingredients
1 cup(s) (packed) light brown sugar
2 large egg whites
1 cup(s) pure pumpkin (not pumpkin pie mix)
1/4 cup(s) canola oil
1/3 cup(s) low-fat plain yogurt
1 teaspoon(s) vanilla extract
1 cup(s) all-purpose flour
3/4 cup(s) whole wheat flour
1 1/2 teaspoon(s) baking powder
1 teaspoon(s) ground cinnamon
1/2 teaspoon(s) ground nutmeg
1/2 teaspoon(s) baking soda
1/2 teaspoon(s) salt
Directions
Preheat oven to 350 degrees F. Spray 8 1/2″ by 4 1/2″ metal loaf pan with nonstick cooking spray with flour.
In large bowl, with wire whisk, combine brown sugar and egg whites. Add pumpkin, oil, yogurt, and vanilla extract; stir to combine.
In medium bowl, combine all-purpose flour, whole wheat flour, baking powder, cinnamon, nutmeg, baking soda, and salt. Add flour mixture to pumpkin mixture; stir until just combined. Do not overmix.
Pour batter into prepared pan. Bake 45 to 50 minutes or until toothpick inserted in center of loaf comes out clean. Cool in pan 10 minutes. Invert pumpkin bread onto wire rack; cool completely.
Sugar-Free Apple Crisp via Natural Sweet Recipes
Ingredients
1 large Sweet Apple, diced
2 Tablespoons Whole, Natural Grape or PearJuice
1/2 teaspoon Lemon Juice
1/2 teaspoon Cinnamon
4 Medjool Dates
1/2 Tablespoon Almond Butter or Coconut Butter
1/4 teaspoon Cinnamon
2 Tablespoons Almond Meal
Directions:
Apple Filling: Preheat the oven to 350 degrees. In a small bowl, mix together the diced apple with the other ingredients. Fill small ramekins with the mixture. Place ramekins on a baking sheet, on the middle rack of the oven and bake for 20-22 minutes, until the apples are softened, but not totally tender.
Crumble Crisp Topping: In a food processor, combine all the crumble ingredients. Remove the apples from the oven after 20-22 minutes, sprinkle the crisp topping over and return to the oven for another 4-5 minutes. You can also broil for a few seconds to achieve even more crisp. Allow to cool slightly before enjoying.
Talk to us:  What is your favorite Thanksgiving dessert?