Halloween
How to Reuse Pumpkins
Jack-o-Lanterns
Reuse Produce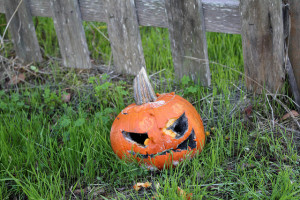 Halloween will soon be over and you might be staring at a porch full of fun-faced jack-o-lanterns that will soon be turning into not-so-fun-faced squashed gourds.  Instead of just throwing them out with the trash (or adding them to your compost pile—always a good idea!), why not try some of these ways to get the most of our used pumpkins.
Puree Your Pumpkin
Cut the pumpkin down the middle and clean out the inside.  Place the pumpkin cut-side down on a baking dish along with a cup of water and bake for 90 minutes.  After baking scoop out the flesh and blend it in a food processor.  This puree can be used for everything from soups to pies to facial masks (see below).
Make an All-Natural Mask
The recipe from The Ready Store sounds like something you might be making to feed dinner guests, but it is actually a great exfoliating facemask.  Blend diced pineapple, pumpkin puree (see above), honey and aloe in a food processor or blender.  Stir in jojoba oil, green tea (brewed) and cornmeal.  Apply small amounts of the pumpkin mask to your cheeks, forehead, chin and neck and leave on for 15-20 minutes.  Rinse with cool water and pat dry.  Click here for full recipe.
Create a Candle
This project from SheKnows.com is great for smaller pumpkins and gourds.  Cut the top off of each pumpkin and scoop out the inside.  Set aside.  Next, melt soy wax flakes (we like these from candlescience.com) in a double broiler, stirring with a spoon until the wax is fully melted.  If you would like, stir in drops of an essential oil for scent. Remove from heat and let sit until thick—about the consistency of a Slurpee.  Fashion a wick into the pumpkin or gourd and carefully pour in the melted wax, filling about 2/3 to ¾ full.  Let sit to harden.  Click here for full recipe.
Plant It
Yes, plant it, says Earth911.com.  Put some potting soil inside a cleaned out pumpkin (about one-third full) and place a beautiful fall annual inside.  You can leave this on your porch or patio for great fall decoration or plant the whole thing—pumpkin and all—into a hole in your garden.  The pumpkin will naturally compost and provide fertilizer for your plant.
Give Back to Nature
Cut up chunks of the pumpkin and place in your yard or on your patio to attract more wildlife to your home.  If you don't have an outdoor space (or not really sure you want to attract wildlife), donate your pumpkins to a local farmer.  He/she will be able to use the gourds to feed the farm animals.  Visit LocalHarvest.com for farm locations and information.
Talk to us:  What are you planning to do with your pumpkin when Halloween is over?
image courtesy of flickr/BY CC 2.0