Eco-Cleaning Tips for the Office
Office Cleaning Tips
Refrigerator Cleaning
The Essential Rules for Office Refrigerator Cleaning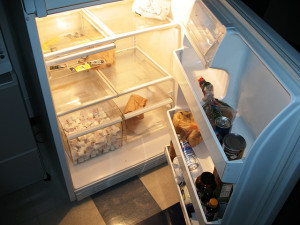 Anyone who has worked in an office setting knows the woes of the often-stinky office fridge. Forgotten lunches passed over for spontaneously ordered take-out, food long past its expiration date and the worst: unidentifiable objects. The fact is it's not so tough to keep the icebox clean with the right system in place. Here's how to get—and keep—your office refrigerator in top shape the natural way.
Put someone in charge. Whether you select one person or a team, make sure you have a portion of your staff dedicated to this often ignored and dreaded task. Unclean refrigerators breed bacteria and release mold spores into the air, putting employees at risk. Once your 'clean team' is determined, schedule a date for cleaning, ideally Fridays, to prevent food from sitting in the fridge over the weekend. And create a list of rules, like the following, to keep everyone in the office on track:

All food containers will be tossed on Fridays at 4 p.m. if not removed prior.
Expiration dates will be checked on bottles and expired items will be tossed on Fridays at 4 p.m.
If food spills, please clean it up immediately with a clean rag and warm, soapy water.
Please do not use chemical products inside the fridge.

The big clean out. Once you establish your rules, give the office fridge a good baseline cleaning. Remove all items, checking expiration dates and pitching those that are expired as you go. Once empty, use a clean towel and warm soapy water to wipe down the interior walls, shelves and flat surfaces. Use another towel to dry. Use vinegar to break up tough, greasy stains and toothpaste with an old toothbrush for the most stubborn ones. And don't forget the freezer; make sure to clean that out weekly as well.
Plan ahead. Prepare for future odors by placing a new, opened box of baking soda inside the fridge; be sure to change it out every six months for optimum freshness. If fridge smells have already reached super funky levels, place a few charcoal briquettes on a plate inside the fridge for a few days. Catch spills when they happen by lining all drawers with fresh paper towels.
Protect the environment. For food safety, the temperature inside the refrigerator should always be below 40°F. Monitor yours with a thermometer placed in the center of the top shelf. Check it frequently and if you notice it's too warm, have your appliance serviced.
Talk to us: What's the state of your office fridge? Let us know if these tips work for your organization.
image courtesy of flickr/BY CC 2.0