Canning Tips
Food from the Garden
healthy eating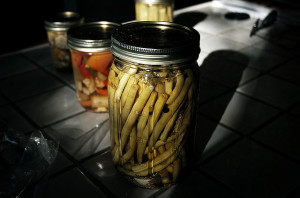 It's here—whether you garden in the back forty or in patio containers, summer's bounty is upon us. With oh too many tomatoes and cucumbers galore, canning is a great way to savor your harvest throughout the winter months. Here's how:
Pick at peak. It might be tempting to leave those fruits and veggies on the vine until you have time to can, but don't. Let the produce determine when you do it–can when items are at peak ripeness, not overripe, for best results.
The right tools. When it comes to supplies, choose those that were made for the job. Kerr or Ball mason jars work best and can be used multiple times, along with the screw top portion of the lid. The flat piece that sets on top of the jar inside the screw top is for one-time use only though, so be sure to replenish your stock each season. And don't reuse other food jars like commercial jam or mayonnaise containers, they aren't heat-tempered and can break easily.
Use a recipe. Think of canning as a science—like baking—where you need strict adherence to a recipe for a successful result. Don't wing it or add extra seasonings, doing so can increase bacteria exposure. Avoid adding fat, like butter, as this can increase the rate of spoilage.
Sterilize safe. The most crucial safety steps in the canning process come during sterilization and sealing. But don't let that deter you from trying it. Find our favorite, simplified directions and great recipes at Ball's website, http://www.freshpreserving.com.
Store smart. Canned foods last a long time; they retain their color, taste and nutritional value for about a year. For best results, store yours in a cool, dark area as temperatures over 70° and direct sunlight accelerate breakdown of ingredients. Clearly label your cans with contents and date, and be sure to use oldest items first for great taste and food safety.
Can-It-Forward. August 16th was the fourth annual International Can-It-Forward Day! What's that, you ask? At a live taping in NYC, Bravo's Top Chef Hugh Acheson performed live canning demonstrations and shared all his best tips and tricks for safe and delicious preserving. If you missed the fun, click here to watch video from the live stream.
Talk to us: What are your favorite items to store throughout the winter months? Do you have the best canned tomatoes or pickles in town? We want to hear from you!
image courtesy of
flickr/BY CC 2.0