eco-friendly lifestyle
Green Products and Services
How To Live Green
recycle clothes
repurpose clothes
reuse clothes
shopping for the environment
spring cleaning
what to do with old clothes
Secrets to Help You Discover the Joy of Thrift Shopping
In the 90's, the reign of Kurt Cobain and grunge immortalized thrift store style.  Recent years have seen thrift shops enjoying a renewed popularity thanks to the rise in eco-friendly, green living choices.
5 secrets to help you discover the joy of thrift shopping
1. Seek out thrift shops in neighborhoods that fit your tastes and lifestyle.
Thrifting veterans swear by suburban thrift shops versus those found in big city neighborhoods. According to those in the know, when you shop in suburban neighborhoods—preferably in neighborhoods with an older population—you'll find antiques and other quality items. You're also more likely to find items that fit your lifestyle when you seek out thrift stores in your preferred neighborhoods.
2. Never pay full price.
Thrift stores often hold discount days or offer a variety of discounts for different items. Save even more money when you research the discounts offered at your preferred thrift stores. Sometimes you can even bargain with the cashier if you're eyeing a great item. Their job is to move items out of the store so they can make room for new donations, it's in their best interest to work with interested shoppers.
3. Beware of bedbugs.
Unfortunately New York has gone bedbug crazy, and upholstered items and fabrics are the highest risk for bedbug infestation. Wood furniture can be easily cleaned, repurposed, or upcycled without risking a bedbug outbreak. Don't forget to disinfect everything with green cleaning products before you add it to your interior design.
4. The early bird gets the good thrift store items.
Get to the store early to claim the best items. Thrift store shopping is a competitive activity, and as a beginner you'll be up against some seasoned professionals. It's not uncommon for some savvy shoppers to have thrift store clerks on speed dial to stay informed on unique additions to the inventory.
If you're planning on thrifting on the weekends, plan your schedule around early arrivals so your day isn't wasted on stores that have already been cleaned out by other shoppers.
5. Don't forget the kitchen section.
You might be looking for furniture, but don't ignore the kitchen section. This is where you'll find vintage china, unique glassware, real silver, and bowls and platters for every occasion. All priced dramatically below department stores and vintage boutiques. This is a great place to look for hostess and holiday gifts. It's never too early to plan ahead.
Where have you found the best thrift stores? If you're willing to give away your secret spot, divulge it to us here or on our Facebook and Twitter pages.
DIY Holiday Decorations
eco-friendly holidays
eco-friendly lifestyle
green child raising
green cleaning in NYC
Green Cleaning NYC
Most people agree carving pumpkins is fun and eating pumpkins is delicious, but cleaning pumpkins is a hassle. Since green cleaning is our expertise, we thought we'd share some tips and advice to help make this dreaded task easy (naturally), if not necessarily fun.
Step 1: Find the perfect pumpkin
If your goal is to carve pumpkins for decoration, then you need to start with a perfect, healthy specimen. First, find a pumpkin that is completely orange. Green pumpkins are unripe and trying to clean or carve one will be harder than you bargained for.
Narrow the contenders down even farther and limit your possibilities to only medium-sized pumpkins, which are best for carving.
Once you've found one you like, do a final check by pressing on it with your thumbnail. It should resist denting or cracking, an indication that it's ripe and ready to be carved.
And, most importantly, lift your perfect pumpkin by the bottom, not by the stem.
Step 2: Prepare for Cleaning
Keep your pumpkin in a cool, dark area until you and the kids are ready to start carving. When you're ready to go, gently wash your pumpkin with cool water and allow it to dry completely.
While it's drying, assemble your tools: sharp knife, steel ice cream scooper, steel melon baller, clean cloth.
Step 3: Open the Pumpkin
Carefully holding the stem as an anchor, with a sharp knife cut the top away from the pumpkin – taking care not to make the incision too far down the pumpkin, leaving yourself room for carving your pattern on the face. Gently lift the top away from the pumpkin and cut away the seeds and tendrils attached to the piece. Don't forget to set the seeds aside for cleaning and roasting later! Pumpkin seeds have medicinal health value as well as being tasty snacks.
With the top set aside, turn your pumpkin over and cut out the bottom of the pumpkin to create a flat surface for your jack o'lantern to rest when you're finished with your artistic handiwork. Cutting away the bottom makes it easier to place over candles and keeping the top removable allows for smoke to escape and the stem adds an authentic flare.
Step 4: Scrape out the seeds
Keep your pumpkin inverted so you can reach through the bottom opening to remove the seeds. Using your steel ice-cream scooper, reach into the pumpkin and scrape the seeds from the top of the pumpkin to the base. The lining will pull away easier than scraping top to bottom. To make reaching easier, it's fine to move the pumpkin onto its side and move it as necessary. When most of the seeds have been removed, switch to your steel melon baller to remove smaller areas or leftover seeds and gunk. When everything has been removed, pat the inside of the pumpkin with a clean cloth to remove any remaining moisture.
Now you're ready to carve your pumpkin! If cleaning the pumpkin is all the cleaning you'd like to do this Halloween, schedule a pre-and post-party clean up with us. We prepare your home for guests, help out at the event and clean up afterwards using environmentally friendly cleaning products. Contact us to schedule your event cleaning service today.
Photo Credit
DIY Holiday Decorations
eco interior design
Green Cleaning NYC
green living
If you're anything like us, you love Pinterest for its delicious recipes, fabulous décor ideas and intriguing DIY projects. This month we decided to scour the addictive site for eco friendly Halloween DIY ideas to bring you the best of the best when it comes to fun and spooky projects. Of course, we can't promise there won't be some clean-up involved, but that's where we come in. Schedule eco friendly cleaning services to go with your eco friendly Halloween, and leave the truly scary part to us!
In order of easiest to hardest, here are our favorite Halloween DIY projects from Pinterest.
Spooky fog
Visit a thrift store or your storage closet to find a suitably scary looking container to hold your fog. It should be large enough to hold large chunks of dry ice and allow you to insert your hands and arms comfortably with room to move.
Buy dry ice at a liquor, grocery or party store. Using gloves or tongs place chunks of dry ice in the container. When you're ready for the fog to start, pour hot water over the ice and enjoy.
Thanks for the tip Hula Heather!
Halloween Wine Bottles
What's cake without wine? This project is so fun and simple, you'll enjoy making this Halloween decoration as a girls night out activity or even as a fun and romantic craft with your significant other. All you need are empty wine bottles – you'll have fun taking them from full to empty – some vegetable-based paint in colors of your choice, spooky dark candlesticks with a base wide enough to hold the wine bottle, and your imagination!
After the bottles are empty use your imagination to paint them with spooky Halloween-inspired designs, faces and markings. Allow them to dry completely and display them on the candlesticks.
Thanks for the hours of fun Lisa Wilson!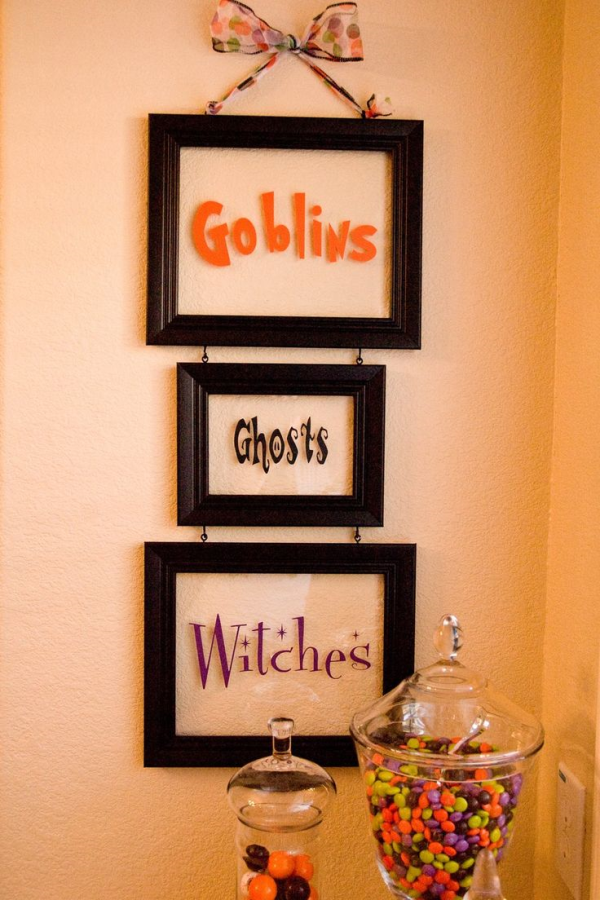 Indoor Halloween Signs
The photos of this project looked so great, it's hard to believe this craft involves inexpensive frames with backs removed and either vinyl adhesive letters or vegetable-based paint, depending on what you'd like to do with it. This project would be fun for a rainy afternoon, or a great way to keep the kids busy for a few hours at the table.
Thanks for the inspiration Nikki Hardy!
Cake Ball Brains with Oozing Cherry Blood
The best DIY projects involve baking, in our opinion, and this project is delicious, fun and guaranteed to impress party guests from the littlest to the biggest.
This easy-to-follow recipe also includes a link to purchase the one must-have accessory you need to complete this project. Since you'll need it before you can get started, give yourself a few extra days to have everything on hand before you get started.
Thanks for the recipe Esther Freedman!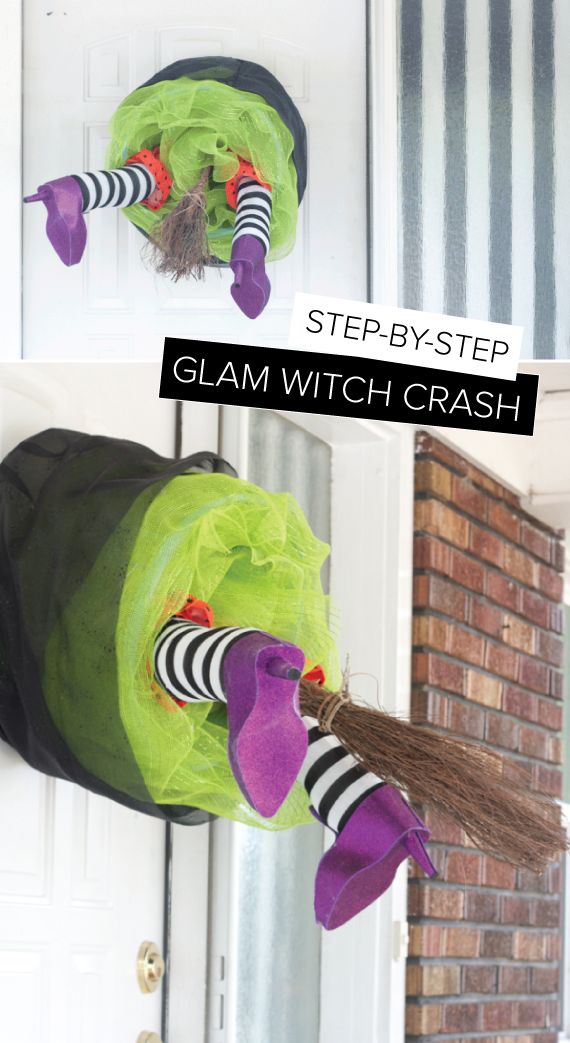 Witch Crash
This fantastic project takes some time and effort to complete, but the end result is worth it. The total effect makes it appear that a witch on a broom has crashed into your door or wall – where ever you decide to construct this. It's a fun decoration that will delight your family and friends. We especially recommend giving this a try if you're planning on a Halloween party or expect to see lots of trick-or-treaters this year. Keep this eco-friendly and cost effective by upcycling items you have in the house or visit a thrift store for pieces you might need.
This step by step tutorial makes this project easy to make and features great photos so you track your progress every step of the way.