buy eco-friendly products
eco-friendly holidays
eco-friendly kids
eco-friendly lifestyle
eco-friendly party
eco-friendly summer activities
environmentally aware kids
green child raising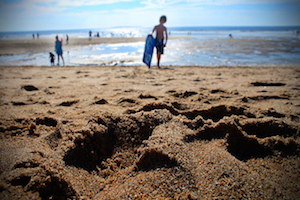 Our children are such a joy; their laughter, their enthusiasm, their never ending need to be entertained…
Summer vacation can veer closer to exhausting than exhilarating if we start out unprepared, especially when it comes to keeping the whole family entertained.
With a few easy to do, eco-friendly summer activities under our belts, three months of summer becomes an ideal opportunity to enjoy the environment as a family. Not to mention the perfect chance to teach our kids how to appreciate the green, sun-filled world they live in.
GET BACK TO NATURE WITHOUT LEAVING THE CITY
New York is an exciting city to raise a family. It's filled with the world's biggest and best cultural accomplishments and experiences; but sometimes it can be nice to slow the pace and get to know the simpler things in life again. Activities such as visiting the zoo, nature walks through the park, taking the train out to nearby farm, or even just exploring a weekend Farmer's Market as a family can be a wonderful way to get back to nature, even if you don't have the time to escape the city.
Get the most out of your adventures with a little pre-trip study time as a group. Research the animals you'll be visiting, the nature you might be passing, and the reason why local organic foods are healthier before you set out on your day trips. When kids understand why something is important they will value it more, don't forget to tell them why it's important to care about the things you're showing them.
CAN YOU TAKE THE HEAT?
How cold do you keep your house in the summer? Air conditioning is a wonderful benefit of modern technology, especially in New York in the summer, but it can also wreak havoc on the environment.
According to a recent article in The Guardian, "The United States has long consumed more energy each year for air conditioning than the rest of the world combined. In fact, we use more electricity for cooling than the entire continent of Africa, home to a billion people, consumes for all purposes. Between 1993 and 2005, with summers growing hotter and homes larger, energy consumed by residential air conditioning in the U.S. doubled, and it leaped another 20 percent by 2010. The climate impact of air conditioning our buildings and vehicles is now that of almost half a billion metric tons of carbon dioxide per year."
Not to mention the fact that keeping our homes unnaturally cool during the hot summer months causes stops our bodies natural adaptation to the seasonal heat.
Raise your temperature by just a few degrees and save carbon dioxide and your health.
WACKY GARDENING FOR KIDS
It's a well known fact that kids love pizza! Just wait until they start growing a pizza garden. What's in a pizza garden? Tomato, basil, and oregano are a good place to start, but do some brainstorming with your kids and find out what other great pizza toppings they want to grow. All you'll need is a little space set aside and a few pots to create your window garden. At the end of the summer, have a pizza party with pies made from the harvest!
If you're lucky enough to have a rooftop garden or a back yard, take advantage of the extra space and grow a sunflower maze for kids (and adults) to enjoy this summer. Sunflowers – ask for tall varieties at your local nursery – grow to be 12 to 20 feet high. A few seed packages, water, and TLC is all they need to grow into a natural play area.
BRING THE BEACH HOME
Getting to the shore can be an expensive and time consuming activity. Chances are you won't be able to make it to the beach as often as your family would like. To that we say: why not bring the beach to you? Turn your outdoor space – or just a portion of it – into a sandy private beach. You'll need bags of clean sand, which you can find at the gardening outlet or even a home improvement store, as well as a kiddy pool and a beach umbrella. Make it resemble the real thing with some sea shells, driftwood, and other items found on the shore.
WHAT DO YOU HAVE PLANNED FOR YOUR FAMILY TIME THIS SUMMER? LET US KNOW HOW YOU KEEP YOUR KIDS ENTERTAINED AT FACEBOOK, TWITTER AND PINTEREST.