buy eco-friendly products
creative uses for yard waste
eco interior design
eco-friendly lifestyle
Green Cleaning
green living
recycled patio furniture
Is there anything better than spending the sun-drenched summer days lounging outside on the patio? We love getting outside, but after a summer spent under wraps we have to admit that our patio furniture has seen better days.
There's never been a better time to replace our tired patio set; furniture designers have been diving headfirst into the green design scene this year and creating some fantastic recycled patio furniture options.
Our mantra is always reduce, reuse, and recycle and we're pleased to see so many creative designers proving how fashionable and chic it can be to live green.
Here are a few unusual examples of recycled patio furniture that we have our eye on this season.
Contemporary Bike Furniture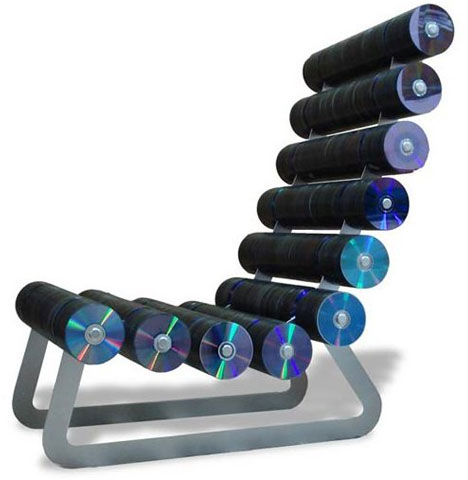 Designer Andy Gregg creates fiercely modern furniture out of recycled steel and aluminum bicycle rims, handlebars, and frames. His pieces can be purchased at Bike Furniture. Act fast if you want one of his rugged pieces this summer, his work has been praised by design experts from The Wall Street Journal, HGTV, and Interior Design Magazine.
Deck Furniture from Reclaimed Wood Pallets
Most stores have wood pallets that they no longer use or need available. These pallets can be repurposed into deck furniture, wall hangings, organizers, and even an old-fashioned porch swing if you have aspirations of sitting with a glass of lemonade in the shade, but don't have a lot of patio room to work with.
To create your swing, you'll need heavy duty rope and an electric saw. Visit this design site for construction details and more creative furniture options you can make with reclaimed pallets.
Rustic garden bench from an old headboard
One crafty blogger repurposed her husband's dilapidated childhood bed into a rustic bench that can be used anywhere from the garden to the hallway. Even if you don't have a piece of furniture with the family history that she discovered tucked away in her in-laws garage, you can still poke around a neighborhood thrift store or junk shop and find the perfect piece for your style. See how she built her recycled bench here.
Etsy
If you're better with your credit card than you are with your hands, you'll probably prefer to support a local craftsmen and purchase your new recycled patio furniture. Luckily, Etsy features dozens of green outdoor furniture designers that offer hundreds of chic and creative recycled patio furniture options at very reasonable prices. Not only will you be supporting their craftsmanship with your purchase, but you'll also be scoring a unique and potentially one of a kind piece of furniture like this gorgeous outdoor table made of reclaimed pine and metal.
What type of outdoor furnishings are you adding to your home this summer? Are you crafty enough to make your own furniture or do you prefer to buy items? Share your photos and design inspiration with us at Facebook, Twitter, and Pinterest.